Hero MotoCorp strengthened its scooter portfolio with the launch of two powerful and stylish new scooters – Maestro Edge 125 and Pleasure+ 110 – for customers in India and across its global markets.
The Maestro Edge 125 with fuel injection technology is priced at Rs 62,700/-while the i3S (Carb) variants are priced at Rs. 58,500/- (Drum) and Rs. 60,000/-(Disc). *(All prices ex-showroom Delhi).
Hero MotoCorp's popular Pleasure brand – which already enjoys a strong customer connect – made a powerful and stylish entry into the 110cc segment as the Pleasure+ 110. The scooter is attractively priced at Rs. 47,300/- *(Price ex-showroom Delhi).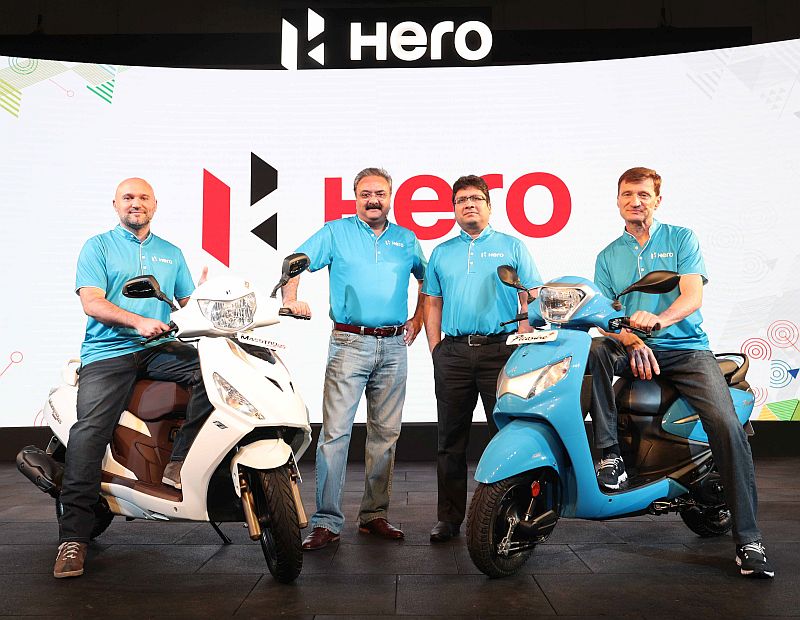 Commenting on the launch, Dr. Markus Braunsperger, Chief Technology Officer, Hero MotoCorp Ltd., said, "With the introduction of three strong products – Maestro Edge 125, Destini 125 and Pleasure+ 110 – within just a few months, we have laid out a strong roadmap to accelerate our growth in the scooter segment. The introduction of India's first scooter with the FI technology – the Maestro Edge 125 – demonstrates the capabilities of our R&D ecosystem."
Malo Le Masson, Head of Global Product Planning, Hero MotoCorp Ltd., said, "Our Scooter strategy is unfolding now with new models that have an edge over competition, be it in technology or style. The Pleasure brand created the women-dedicated segment long back and the new Pleasure+ 110 broadens its audience to all young customers aspiring for a stylish ride. The Maestro Edge 125 is bringing FI technology to the scooter category in India and sets a new benchmark in the segment. Along with the Destini 125, Hero MotoCorp now has a robust portfolio targeting customers of both 125cc and 110cc scooters and is geared up to enhance its presence in the segment."
Sanjay Bhan, Head of Sales, Aftersales, and Parts, Hero MotoCorp, said, "We have already made a strong and successful foray in the 125cc scooter segment with the launch of Destini 125 recently. Together with Maestro Edge 125 and Pleasure 110, we are confident that our portfolio will appeal to a varied customer set and subsequently, contribute towards growing our presence in the scooter segment."
With these launches, Hero MotoCorp has now rolled out seven new products – including premium motorcycles and scooters – with youthful appeal and technological and design excellence, in a short span of time. The newly launched scooters are targeted at rapidly growing Hero MotoCorp's presence in the scooter segment.