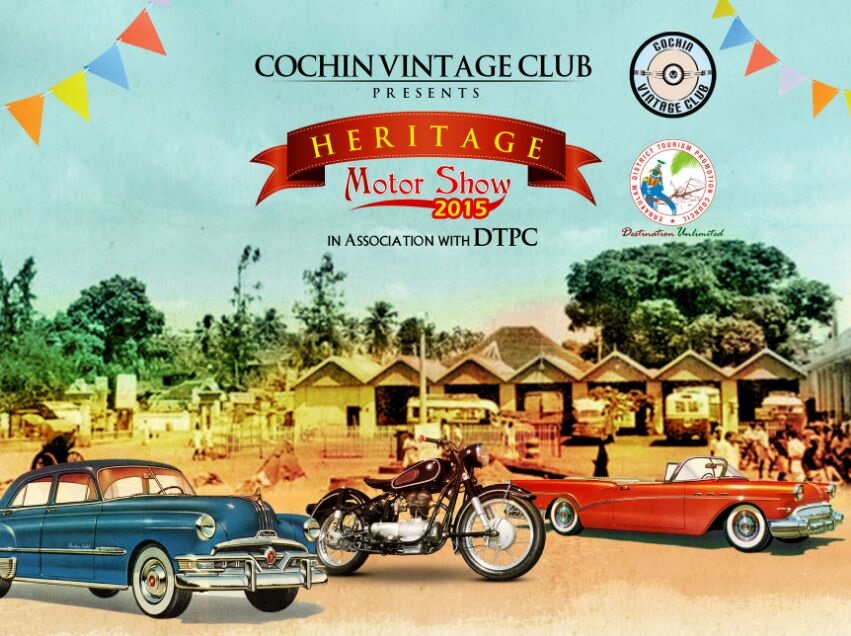 Cochin Vintage Club of Kerala is organising its first Heritage Motor Show on 22nd-23rd August in association with DTPC. The formal Inauguration of the event will take place on 22nd August evening, and Exhibition which includes display of vehicles, on Sunday, 23rd August, 10:00 am onwards. The venue for the event is Durbar Hall Ground, Cochin.
The event will have a wide range of classic, vintage cars, bikes and scooters on display. The show will also have cultural events and competitions for children. The Heritage Motor Show also includes Vintage car & bike rally, food stalls, photo exhibitions, miniature vintage cars & bikes, vintage automobile parts & accessories, Vintage brochures, books, owner's manuals, RC books, driving badges and many more
The two day event will be open to public and there is no entry fee.
The Event schedule is as follows –
22nd August
5:00 PM  – Inaugural function
5:30 PM – Heritage Motor Show open to public
23rd August
10:00 AM – Show open to public
11:00 AM – Painting/drawing competition for children
11:30 AM – Visit of judging panel to select the authentic vintage car/bike
6:30 PM – Closing ceremony & prize distribution
7:00 PM – Performance by Naval Band
About Cochin Vintage Club of Kerala
Cochin Vintage Club (CVC) is an exclusive club of like-minded vintage automobile enthusiasts in Kerala. Since its inception, CVC has conducted auto shows & vintage car rallies and has also associated with various government organisations for events such as road safety week, antidrug campaign etc. The vintage show is being organised to create awareness about necessity to preserve the heritage of the country and to educate the young generation about evolution of the automobile industry.