A showroom at Mumbai Airport will help to increase merchandise sales, but most importantly will help to pull serious Harley fans.
Harley-Davidson opened its maiden merchandise showroom at the Mumbai Airport bringing its legendary and cult lifestyle to brand enthusiasts in the city.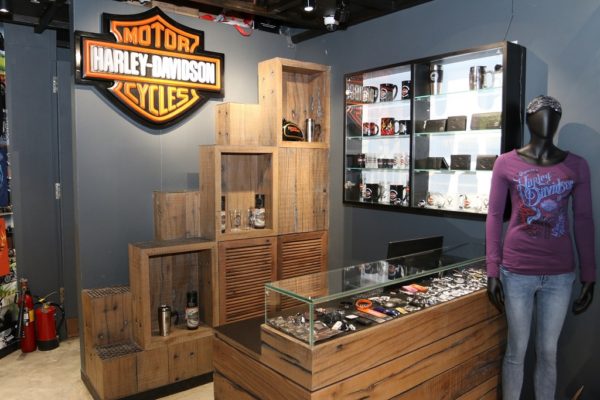 Mach-1 Harley-Davidson located at Mumbai Airport Departures, Terminal 2 is spread over 500 sq. ft. and houses the world's most renowned Harley-Davidson merchandise collections. The showroom will offer riding jackets, boots, helmets, t-shirts, caps, gloves, sunglasses, sweaters and a host of other merchandise and accessories.
The launch of first showroom catered to make the brand merchandise available to customers in Mumbai, stands testimony to the expansion plans undertaken by the company in India to make the brand more accessible to the people of the country who aspire to own a Harley.
This store will certainly help to increase merchandise sales as customers get more time on the airports to check the accessories and other merchandise.
The company should also keep a small display of bikes which could use to generate sales lead and also offer test drive forms so that one can book a test ride of the bike in the city the dealership is present.
Over the last year, the American motorcycle maker opened dealerships in various cities including Ludhiana, Surat, Kochi, Lucknow, Coimbatore, Calicut, Nagpur and Guwahati.
The company has 23 independent dealerships across India: New Delhi, Gurgaon, Chandigarh, Mumbai, Navi Mumbai, Hyderabad, two in Bangalore, Chennai, Kochi, Kolkata, Ahmedabad, Indore, Pune, Goa, Jaipur, Surat, Lucknow, Nagpur, Calicut, Coimbatore, Ludhiana and Guwahati.
 Commenting on the launch, Vikram Pawah, Managing Director, Harley-Davidson India said,
"We are thrilled to launch the Harley-Davidson showroom offering the most exclusive and iconic merchandise to Harley enthusiasts. We are now striding towards bringing the brand closer to the people who someday aspire to own a Harley, offering them a taste of the true Harley-Davidson lifestyle known world over. Charting out every customer touch point, we aim to connect with and make the brand more accessible to a growing aspirational audience, welcoming them to the Harley family."
Shoukath Sherif, Dealer Principal, Mach-1 Harley-Davidson added,
"It gives us immense pleasure to open Mach-1 Harley-Davidson. The Harley-Davidson showroom has been conceptualized to offer and reflect the trademark Harley-Davidson lifestyle. Located at the Mumbai Airport T2 , which ranks best in the country, the showroom will give brand enthusiasts and travelers a destination to shop for genuine Harley-Davidson® merchandise."