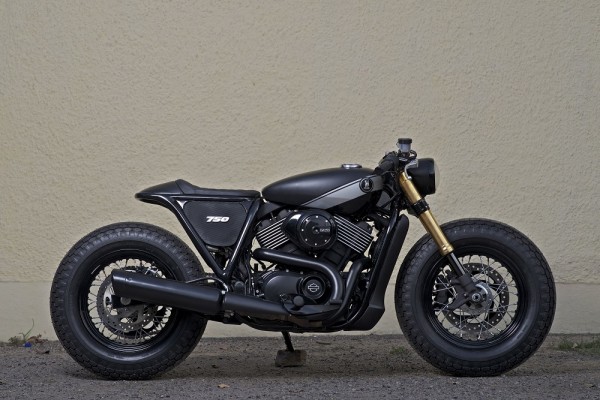 Revealed in its first phase at the Harley Rock Riders festival in Mumbai late last year, the custom Street™ 750 designed by Rajputana Customs is back with a bang. While the initial version was more an organic, old-school inspired custom version of the popular Street™ 750, motorcycle, lovers can expect to see a brand new, radically designed bike at India Bike Week on 20-21st February. This is the first-ever Harley-Davidson Street™ 750 built by an independent custom bike builder in India, and the Jaipur based custom motorcycling outfit has definitely showcased the customization capabilities of the 2015 Indian Motorcycle of the Year.
Commenting on the build, Vijay Singh of Rajputana Customs said, "Where Phase 1 of the build was all about showcasing the versatility of the Street 750 while retaining most of the stock components, Phase 2 is about taking the build a step further and really going all out with the design and making some radical changes. The new design includes a new gas tank, rear set foot pegs, a performance exhaust and a new rear cowl amongst other elements. It's been great working on this build for Harley-Davidson, and we look forward to doing more such exciting things in the future." 
Motorcycle enthusiasts across the country are gearing up for one of the most awaited bike events of the year – India Bike Week, in scenic Goa. While you strap on your riding gear, and buff up your ride here's the lowdown on what else can be expected from Harley-Davidson this year.
Harley-Davidson Demo Rides
The battle between head and heart just got a lot more interesting. In a first at the festival, Harley-Davidson will offer new and experienced riders the opportunity to ride their favorite Harley-Davidson Motorcycles at the India Bike Week. While earlier editions of the festival have featured the signature Jumpstart arena, wherein riders could get a taste of the roaring V-Twin engine, this edition will give festival goers the opportunity to ride their dream Harley-Davidson motorcycle.
Witness the thunder of hundreds of roaring Harley-Davidson motorcycles in the Harley-Davidson Parade
Witness the spectacular sight of thousands of roaring Harleys, ride into the India Bike Week, in the biggest ever Harley-Davidson Parade at 4:00 pm from Nazri Grounds, Baga on 21st February. Harley owners from across the country will come together to participate in the signature Parade making this the largest Harley-Davidson parade in the country till date!
The Kings of Custom
The age old metaphor – no two Harleys are the same gets new meaning at India Bike Week as we unveil 13 radically customized Harley-Davidson Street™ 750 motorcycles as part of the India Dealer Custom Contest. Festival goers will also be able to feast their eyes on a number of other customized Harley-Davidson motorcycles that are participating in the annual Harley Owner Custom contest.
About Harley-Davidson India:
Harley-Davidson® India commenced operations in August 2009 and appointed its first dealership in July 2010. The Company offers 13 models in its line-up in India, in addition to a full range of genuine parts, accessories, and general merchandise, available through its authorized dealerships. Harley-Davidson® India is headquartered at Gurgaon, Haryana, and has an assembly unit at Bawal, Haryana. The company has 17 dealership facilities across India: New Delhi, Gurgaon, Chandigarh, Mumbai, Navi Mumbai, Hyderabad, two in Bangalore, Chennai, Kochi, Kolkata, Ahmedabad, Surat, Indore, Pune, Goa and Jaipur. For more information, visit the Harley-Davidson India web site at www.harley-davidson.in, Facebook page, Twitter Handle and YouTube pages.
About Harley-Davidson Motor Company®
Harley-Davidson Motor Company® produces custom, cruiser and touring motorcycles and offers a complete line of Harley-Davidson motorcycle parts, accessories, riding gear and apparel, and general merchandise. For more information, visit Harley-Davidson's website at www.h-d.com.