Fortuner prices dropped by upto Rs 2,17,000, Innova Crysta gets cheaper by upto Rs 98,500.
Toyota Kirloskar Motor revised prices of the entre model range effective from July 1st 2017.
The Japanese company has passed the GST implementation benefit to customers on an immediate basis and have reduced prices by upto 13%.
With the roll-out of GST from July 1st '17, the approximate price decrease in Bangalore for Innova Crysta will be upto Rs. 98,500, Fortuner gets cheaper by upto Rs. 2,17,000. The Corolla Altis will witness a price dip upto Rs 92,500 while the Etios Platinum prices have been reduced by upto Rs 24,500 and Etios Liva by Rs 10,500.
Due to increase in rate for Hybrid cars, the hybrid variants Toyota Camry and Toyota Prius will be expensive by over Rs 3.5 lakhs in Bangalore and going upto Rs 5.24 lakhs in Delhi as per applicable tax under GST framework.
The price change will vary from state to state, model to model and variant by variant depending on tax rates applicable prior to GST.
Expressing his views on the post GST price Mr. N. Raja, Director  & Sr. Vice President, Marketing and Sales, Toyota Kirloskar Motor said
 "We are happy to pass on the benefits of GST rates on vehicles to our customers.  Customer First philosophy has always been our cornerstone, thus we are delighted that with the GST rates our best quality products will become more affordable for buyers.
Our products Innova, Fortuner, Corolla Altis have been segment leaders since their launch and have been highly appreciated by customers in India. Customers have time and again reinforced their trust on Toyota products backed by QDR philosophy.  Our models have received overwhelming response owing to the attributes of best resale value, low cost of ownership, unmatched safety features and quality services offered by our dealers.
We are hopeful that the price decrease post GST will further boost the customer demands in the coming months.  The GST will be fruitful for the growth of the Indian auto industry. We think the industry will break into double digit growth territory this year.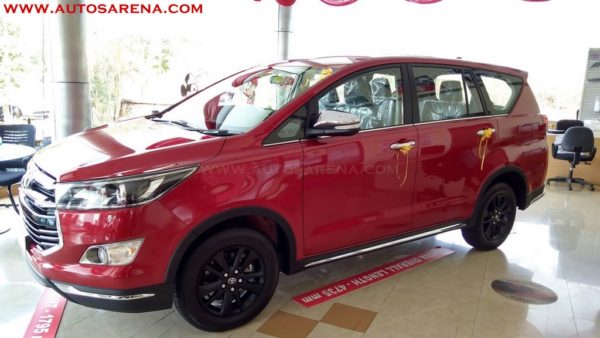 Toyota Kirloskar New Price list (Ex-showroom Delhi w.e.f 1st July 2017)
Sl. No.
Grade
Ex-Showroom Price
Liva
Petrol
1
GX
 5,44,200
2
V
 5,67,500
3
VX
 6,17,000
4
Liva G
 5,20,800
Diesel
1
GXD
 6,71,800
2
VD
 6,88,800
3
VXD
 7,29,700
4
Liva GD
 6,48,300
Dual-Tone Liva
Petrol
1
V
 5,81,900
2
VX
 6,26,300
Diesel
1
VD
 7,02,400
2
VXD
 7,38,200
Platinum Etios w.e.f 1st July 2017
Petrol
1
GX
 6,66,300
2
V
 6,92,800
3
VX
 7,53,200
4
Etios G
 6,27,700
Diesel
1
GXD
 7,73,700
2
VD
 8,00,300
3
VXD
 8,60,800
4
Etios GD
 7,35,300
Etios Cross
Petrol
1
G
 6,36,800
2
V
 7,76,300
Diesel
1
D-4D GD
 7,52,000
2
D-4D VD
 7,81,100
Innova Crysta
Petrol
1
2.7 GX MT
 13,31,100
7
MT
2
2.7 GX MT
 13,35,300
8
MT
3
2.7 VX MT
 15,97,900
7
MT
4
2.7 GX AT
 14,35,400
7
AT
5
2.7 GX AT
 14,39,600
8
AT
6
2.7 ZX AT
 18,84,900
7
AT
Diesel
1
2.4 G MT
 13,52,600
7
MT
2
2.4 G MT
 13,56,900
8
MT
3
2.4 GX MT
 14,36,300
7
MT
4
2.4 GX MT
 14,40,500
8
MT
5
2.4 VX MT
 17,03,100
7
MT
6
2.4 VX MT
 17,07,300
8
MT
7
2.4 ZX MT
 18,85,700
7
MT
8
2.8 GX AT
 15,58,400
7
AT
9
2.8 GX AT
 15,62,600
8
AT
10
2.8 ZX AT
 20,07,900
7
AT
Innova Touring Sport
Petrol
1
2.7 VX MT
 16,68,400
7
MT
2
2.7 ZX AT
 19,55,300
7
AT
Diesel
1
2.4 VX MT
 17,73,500
7
MT
2
2.8 ZX AT
 20,78,300
7
AT
Corolla Altis
Petrol
1
1.8 G
 14,89,100
MT
2
1.8 G CVT
 16,43,800
AT
3
1.8 GL
 17,17,000
MT
4
1.8 VL
 18,67,900
AT
Diesel
1
DG
 16,65,200
MT
2
DGL
 18,27,300
MT
Fortuner
Petrol
1
(2.7L) 4×2 MT
 24,41,800
2
(2.7L) 4×2 AT
 25,96,800
Diesel
1
(2.8L) 4×2 MT
 25,88,500
2
(2.8L) 4×2 AT
 27,37,000
3
(2.8L) 4×4 MT
 28,20,400
4
(2.8L) 4X4 AT
 29,18,600
Camry
1
2.5L – Petrol
 28,69,700
AT
2
Camry Hybrid
 37,23,100
AT
Prius
1
Z8
 45,23,000
CVT
Land Cruiser Prado
1
VX-L
 84,72,000
Land Cruiser 200
1
VX
 1,28,43,000