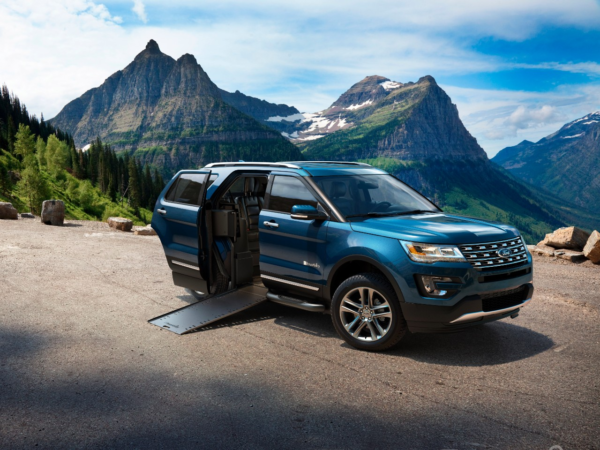 The car you own tells so much about your personality,' with drivers who buy small car found to be pro-environment while minivan owners tended to be calm and enjoy traveling in their car. This somehow doesn't apply for wheelchair drivers.
For years, people in wheelchairs have only had two options in terms of owning a personal vehicle – a van or a customized car. However, things have changed for the better.
The automobile giant Ford Motors launched the BraunAbility MXV – the world's first wheelchair-accessible SUV. It is the latest addition to BraunAbility's long line of automotive mobility innovations that give users the freedom of driving an accessible car. The Explorer converted vehicle gives wheelchair drivers the quality and dependability of BraunAbility along with its innovative solutions as well as the style and capability of Ford's sport utility vehicle.
"We're thrilled the Explorer name is connected to such a highly respected brand like BraunAbility," said Omar Odeh, Ford marketing manager. "Explorer has always been associated with helping people go places they otherwise could not, and BraunAbility MXV furthers that reputation." The Explorer is among Ford's best-selling models in India which is a big market for brand. In fact, a previous Autos Arena post specified that Ford sold more than 6,000 units last month.
Nick Gutwein, BraunAbility president and CEO said, "Our customers are very excited to have a mobility option that reflects their individuality. For us, Ford Explorer was the obvious choice. It's an iconic vehicle that reflects the ultimate in independence and freedom."
Available in Explorer base, XLT, and Limited models, the BraunAbility MXV features a patented sliding-door technology, removable driver and passenger seats, a sliding shifter and front seat base design, and a lighted-in floor ramp. It also highlights features Explorer drivers have loved about the SUV for 25 years, such as a 3.5-liter V6 engine, 5,000-pound maximum tow capacity, EPA-estimated 17mpg city, 24mpg highway, and 20mpg combined rating.
To further assist drivers, the integrated key fob operates the door and ramp, and the vehicle comes with a tow package. Drivers can also use the car from a wheelchair or ride as a passenger in the back.
Here are some notable dimensions:
• 55-inch usable side door opening height
• 28 1/2-inch usable ramp width
• 58-inch interior height (vehicle center)
• 59-inch interior height (for driver and passenger)
• 55-inch interior floor length behind front seats
• 59 1/2-inch interior width at B-pillar
Technology to empower PWDs
With new advancements in technology, it's not surprising to see the automotive sector finally find a way to offer more accessible transportation options to PWDs in wheelchairs. And in addition to accessibility, tests have also been conducted on the use of digital interactive tools, specifically video games, to help wheelchair users who are experiencing arm and body pain or muscle rehabilitation. Innovative games have even been integrated into state of the art vehicles to help people on long journeys so they don't feel discomfort while in transit.
In 2000, the classic arcade game Space Invaders was revived by Indian engineer Puneet Sharma as a platform to treat muscle injuries by linking repetitive muscular exercises with playing video games. Sharma said the technique can work with almost any video game, even the casual ones.
Thankfully, developers that operate globally like Gaming Realms (GR) are now investing more time, resources and effort to extend all sorts of casual titles to more users including people in wheelchairs. Visiting entertainment hubs, or any place for that matter, can be a challenge hence GR brings the most popular casual games like Poker to players through its digital versions launched on Slingo as well as its other gaming platforms. A report by Gaming Intelligence relayed that the firm hopes to create more opportunities towards collaboration for the benefit of all kinds of players. As these games become more accessible to everyone, operators such as GR will be looking at new partnerships and innovations to help reach demographics they haven't targeted before. One such niche is the focus on rehabilitation in an aim to find games that help relax the body and mind to support PWDs. With improved muscular function, PWDs who prefer to drive will be able to operate vehicles like the MXV relatively easier.
Technology has an endless potential to assist PWDs, especially with the rise of wheelchair-accessible vehicles such as the MXV and smart cars. These innovative solutions target millions of people who rely on wheelchairs to get around. Soon, we will be able to see more personal transportation options for wheelchair drivers that give PWDs more freedom to go wherever they want without much assistance.