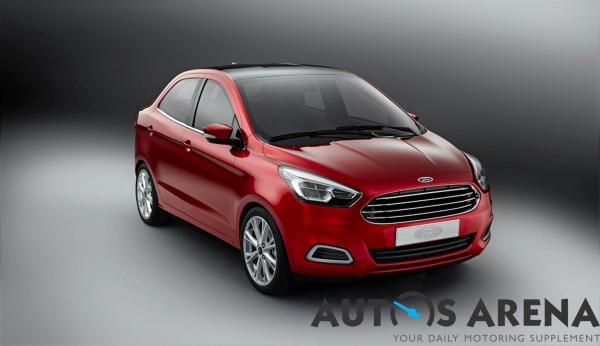 Ford unveiled the vision for a global B-segment compact car which redefines the expectations for B Segment today in Delhi, 2 days before the mega event, 2014 Auto Expo. The Figo sedan Concept is Ford's vision for an all-new global compact car, offering advanced technology and clever design to India and other emerging markets.
A segment which once was considered to be a joke is now a very important with all major manufacturers launching new models, in fact 2014 will see three more additions: the Figo Sedan, Tata Motors Zest (unveiled today) and the Hyundai compact sedan (to be unveiled on 4th February).
With the global unveiling of the new Figo Concept, the American car maker aims to set new standards for quality and craftsmanship in the B-segment, aiming to exceed the expectations of consumers in India and other emerging markets.
The sub-four-metre design makes the Figo Concept a perfect fit to meet the needs of the competitive B segment in India – while surpassing customer expectations with a host of innovative features. The new compact sedan brings a new look and spirit to the important B segment, and offers more quality and technology than customers would ever expect, together with outstanding fuel efficiency and value.
Kumar Galhotra, vice president of Engineering, Global Product Development, Ford Motor Company quotes: "With the Figo Concept, we are showing that choosing a compact sedan does not mean compromising on premium design or smart solutions."
The Figo Sedan will offer great fuel efficiency and low cost-of-ownership with unexpected levels of refinement. The new car design was led by Ehab Kaoud, chief designer, Ford North America. The car has been designed keeping the comfort and requirements from a Indian customer in mind.
Ford has not revealed the date of launch and said the car will be launched as per scheduled plan.
You can also watch the recorded Live stream of the event here: Watch it LIVE! Ford Global Concept Car Unveiling
Ford Figo Sedan Concept Gallery