Having missed the auto expo, I was tempted to check out when Ford announced that they'll be replicating the Auto Expo experience in different cities.
Ford time machine was in Chennai as per schedule last weekend and I visited Express Avenue mall to check it out. Below is what I felt about the attempt taken by Ford to help understand the auto expo.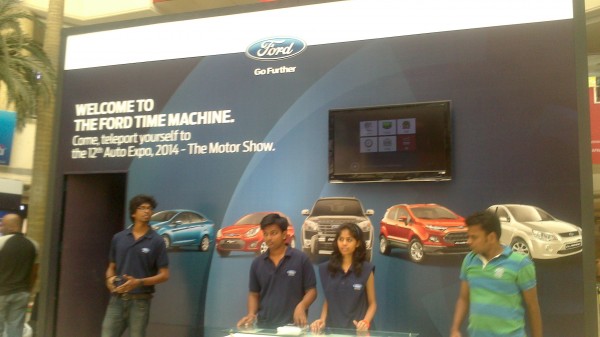 What it was like to experience Ford Time Machine?
After some initial technical delay, I was let in, was given a 3D glass and we could see the ford stall in 3D. The Endeavor, Ecosport, Figo, Classic and the 2 concepts (2015 Ford Fiesta and concept hatchback). One of the attendants gave a brief walk through about each of the cars, which was hardly anything. His answer to most of the question was "Please check with the dealer"
I came out feeling disappointed, as the show had no value addition.
Below are my concerns/comments or tips for improvement
1) Interiors were not shown.
2) The Ecosport with Sunroof, which was shown at the auto expo, was missing in the 3D view
3) The person giving the walkthrough was an event management guy- not a ford employee, not an automobile enthusiast and hasn't been to Auto Expo himself. The information he had was extremely limited. Anyone who'd read any of the blogs including Autosarena which covered the Auto Expo live would be having more information about the cars shown at Auto Expo. For Ford Endeavor, the only improvement quoted was "18 inch alloy wheels", for the concept hatchback, "when it is launched it will be a surprise for sure". For more information we were asked to visit the dealer.
Visiting dealer for information on to be launched cars is useless, because dealers have one primary motive- to sell cars NOW. They won't ever advise you to wait for few months for a new model, as they need to clear existing stock and meet current sales targets. (When I met a Hyundai salesman in Jan, he was insisting that Grand i10 based sedan would take about 6 months and insisted that I should buy an i20 or grand i10 NOW)
4) Some contests and small prizes would have been nice.