Force Motors plans to take on the Innova Crysta with Force Traveller 6+D Business Tourer.
Force Motors showcased the Force Traveller Business Tourer at the 2017 PRAWAAS India International Bus & Car Travel Show.
Based on the Traveller 3050 Super Flat roof variant the Business Tourer comes with business type interiors developed by Pinnacle Modify.
Salient features of with Force Traveller Business Tourer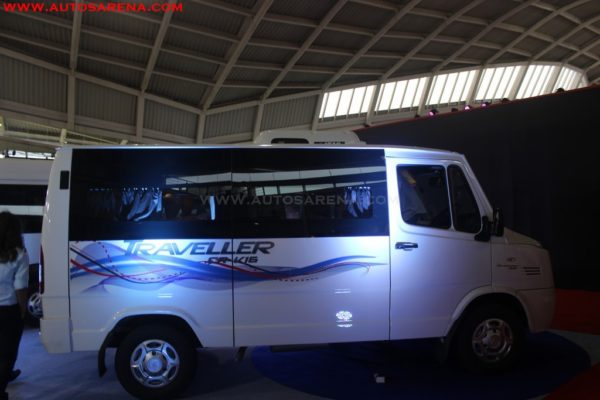 Stuck Side Window Glass
Carved Footstep
Manual Glass Sunroof With Hinged Ventilation
Integrated Audio/video Facility
Molded Interior Panels, hatrack Integrated With Lights, airvents & speakers
Push Back Seats
Plywood Floor With Wood Finish Ger-floor
Increased Boot Space
The Force Traveller Business Tourer is powered by a Mercedes derived FM 2.6 CR Engine which develops 130hp@3800 rpm and max torque of 300Nm@1600-2400 rpm. The engine is mated to a 5 speed transmission.
The special edition on offer comes with standard Air conditioning, ABS with EBD.
The interiors are very luxurious with leather upholstery and have very good leg room as compared to MPVs and SUVs. The vehicle on display comes with 6+D seating options.
The Tourer is targeted towards business travelers for long distance and is a decent choice over the Innova Crysta.