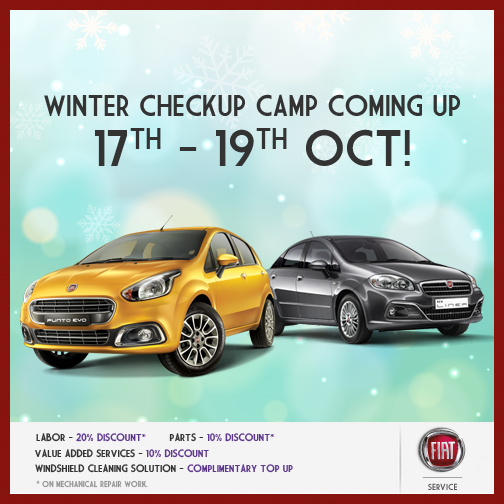 FIAT India launches a Winter Checkup Camp from 17th to 19th October 2014
Checkup camps will take place in 96 cities across the country where 114 workshops of FIAT India will be happy to assist the customers
Additional discounts and a host of other services are offered by FIAT
 FIAT Group Automobiles India Pvt. Ltd (FGAIPL) has undertaken a massive after sales initiative across India. FGAIPL will set up Winter Checkup Camps at its exclusive dealerships across India that will start on 17th October and end on 19th October. This move is in continuation with FIAT's strategy to reach out to a wide base of FIAT customers located across India and reiterate its commitment to the Indian market.
Speaking about the initiative, Mr. Nagesh Basavanhalli, President and Managing Director, FIAT Chrysler India Operations said, "FIAT India will constantly take efforts to reach out to its current and prospective customers with checkup camps. The nationwide checkup camp is a promising way to connect with our existing customer base and reiterate our commitment to them. Through the checkup camps, we will replicate FIAT's global standards in after sales service in India. We have seen a very positive response to all the checkup camps that were concentrated in the past and have therefore decided to come up with one more nationwide camp keeping the need to maintain the car for customers".
FIAT exclusive dealership executives will contact existing FIAT customers through text messages and e-mails to inform them about the camps. The 3 day checkup camps are set up at all the exclusive Fiat showrooms in 96 cities of the country.
FIAT cars reported during this camp to workshop would thoroughly checked for 52 points focusing on visibility, heating and cooling elements of the system in the car. A complimentary top up for the front windshield screen cleaning solution, 20% discount on labor & 10% discount on parts for mechanical repair work. Also, additional 10% discount on value added services by FIAT approved vendor and a complimentary top up for the Windshield Washing solution. Customers will also get a chance to take a look at recently launched Punto EVO and yet to be launched Avventura a contemporary utility vehicle which will make your boring life alive.