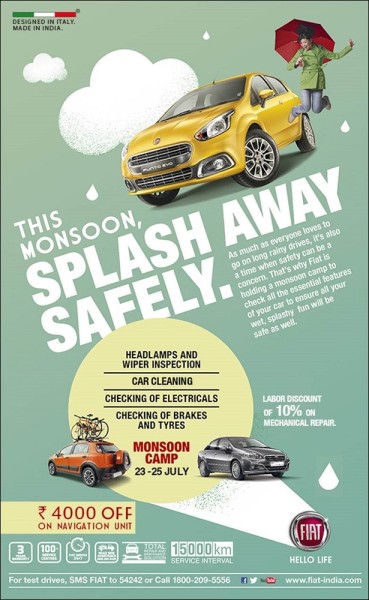 Monsoon Check-up Camp will be conducted across all the 115 authorized FIAT workshops pan India from 23rd to 25th July 2015
Additional discounts and attractive free services will be offered during the camp
FIAT Chrysler Automobiles India is organizing monsoon check-up camps at its exclusive dealerships for three days starting from July 23 – 25. This move is in continuation with FCA's strategy to reach out to a wide base of customers located across India and reiterate its commitment to the Indian market.
The privileged customers of FIAT will enjoy a variety of benefits in this camp. FCA will provide an extensive 60 point free check-up for all their customers with free top wash and 10% discount on labour will be provided to the customers (Only on Mechanical Repairs inclusive of electrical repairs). In addition, the company is also offering a discount of ₹ 4000 on GPS Navigation Unit.  FCA exclusive dealership executives will contact existing customers through text messages and e-mails to inform them about the camps.
Speaking about the initiative, Mr. Kevin Flynn, President and Managing Director, FIAT Chrysler Automobiles India Operations said, "FCA India is swiftly taking efforts to reach out to its current and prospective customers through check-up camps. The monsoon check-up camp is one of the important after- sales service activity conducted by us for the customers to ensure the safety of the vehicles during this season. We have seen a very positive response to all the check-up camps in the past and have therefore decided to organise monsoon check-up camp across India keeping the changing weather in mind".
FCA has strengthened its presence in India by widening its reach to provide world class service to the customers spread across the country.