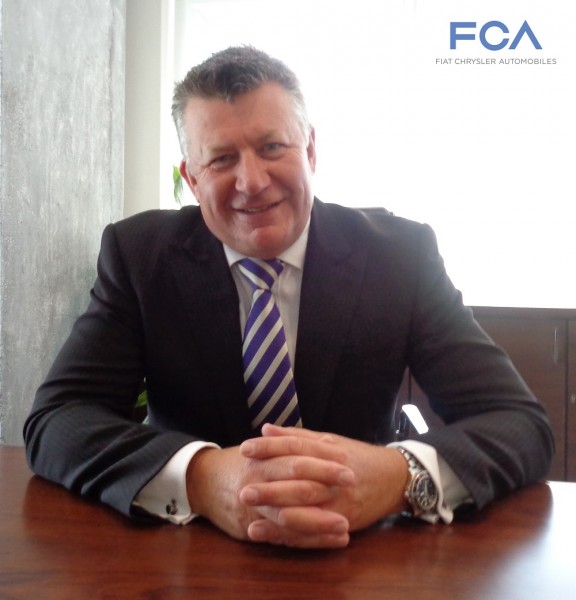 Fiat Chrysler Automobiles (FCA) India today announced the appointment of Kevin Flynn as the new President and Managing Director for India Operations.
This appointment is effective immediately. Flynn replaces Nagesh Basavanhalli, who left the company to pursue other interests.
Flynn is a veteran of the automobile industry with 30 years of international and multi-brand experience. He joins FCA from Jaguar Land Rover, where he served as Managing Director of Jaguar Land Rover South Africa & Sub Sahara Africa.
Flynn will be responsible for strengthening the overall sales of the Fiat brand in India and the new brands that will be introduced in the country.  His role also includes the management of service, parts and customer care across more than 132 dealerships in 98 cities across 24 states in India. Fiat will be introducing the Abarth brand in 2015, which will have its own brand identity.
Commenting on the appointment, Mr. John Kett, Vice President and General Manager, APAC Operations, FCA said, "Kevin is a strong, strategic and dynamic leader with the ability to shape brand and business culture. With his breadth of experience and focus on customer experience, we are confident that Kevin will drive FCA India into the next phase of growth."
About Fiat Chrysler Automobiles
Fiat Chrysler Automobiles (FCA) designs, engineers, manufactures, distributes and sells vehicles under the Abarth, Alfa Romeo, Chrysler, Dodge, Fiat, Fiat Professional, Jeep, Lancia, Ram, SRT brands as well as luxury cars under the Ferrari and Maserati brands.
FCA also operates in the components sector, through Magneti Marelli and Teksid, and in the production systems sector, through Comau and in after-sales services and products under the Mopar brand name. In addition, the Group provides retail and dealer finance, leasing and rental services in support of the car business through subsidiaries, joint ventures and commercial agreements with specialized financing services providers.FCA is an international auto group engaged in industrial activities in the automotive sector through companies located in 40 countries and has commercial relationships with customers in approximately 150 countries.