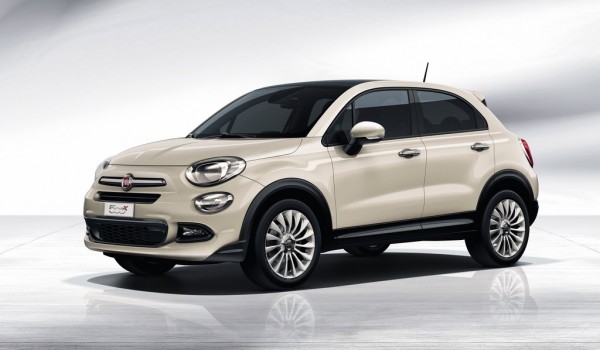 FIAT has unveiled the 500X at the 2014 Paris Motor Show. The 500X crossover is based on a new platform which also shares its underpinning with the new JEEP Renegrade.
The new FIAT 500X is unveiled in two different versions – one for those with a spirited, metropolitan outlook and the other for active, stylish adventurers. The crossover is available with a broad range of engines and transmissions, including a new nine-speed automatic transmission – a first for a FIAT vehicle. The 500X will be available in three drivetrain options: front-wheel drive; "Traction Plus"-equipped front-wheel drive or advanced all-wheel drive with fuel-saving rear axle disconnect.
The exteriors look stunning with typical Italian styling designed in Centro Stile FIAT. The new 500X is compact on the outside – measuring 4.25 metres in length (the adventurous variant is 2cm longer), 1.80 metres in width and 1.60 metres in height (1.61 with roof bars, 1.62 with 4WD). On the inside the 500X is spacious which makes use of high-grade materials, top-quality finishes and practical storage compartments – including a spacious 350 litre luggage compartment.  The seats adjust to offer a high degree of flexibility and seven different interior fabric, leather and colour configurations are available, depending on the model and exterior colour.
The safety features include front headlights with DRLs; front fog lights with adaptive cornering; sophisticated ESC (Electronic Stability Control); Lane Assist (lane departure warning system) and Blind Spot Assist (lane change assistance system). A ParkView reversing camera is also available in the new 500X, as is the "Brake Control" assisted braking system.
A new unique feature of the 500X is the "Drive Mood Selector" which has three different modes for engine, brakes, steering and gearbox/transmission settings: "Auto" offers the best compromise in terms of comfort, consumption and CO2 emissions while "Sport" reconfigures the FIAT 500X for better performance and more spirited handling. "All Weather" adjusts the vehicle settings for maximum safety even in low grip conditions.
The FIAT 500X also offers eco:Drive™, which can help reduce emissions and fuel costs by up to 16 percent, in addition to the my:Car™ service which helps with maintenance and dealing with emergencies.
The FIAT 500X is available with a broad engine range which comprises four petrol engines and three diesels.