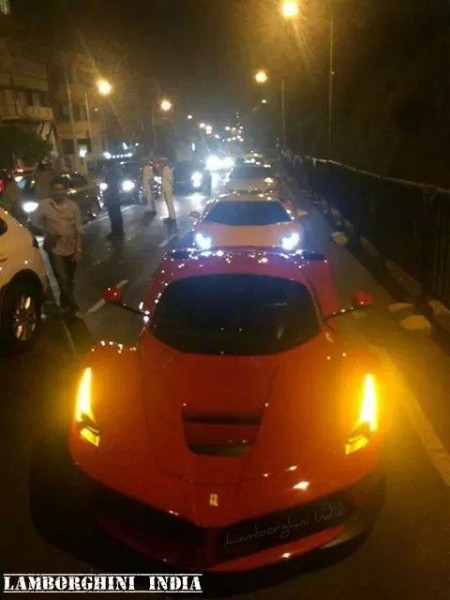 Ferraris' hypercar LaFerrari was spotted in India in Mumbai. The car seems to be imported recently and was caught cruising (on the traffic jammed Mumbai roadsJ ) with the company of Lamborghini Aventador. What's quite surprising is the Italian hypercar makers has not yet even finished building 499 units of the LaFerrari and the car has already landed in India.
The LaFerrari is a very special car and to own one the owner has to previously own atleast 3 Ferrari's. The launch was quite special with invite only to select customers. The LaFerrari was unveiled at the 2013 Geneva Motor Show.
The LaFerrari is Ferrari's first ever production car to be equipped with the F1-derived hybrid solution. The hypercar car is powered by a 6.3-liter V12 engine coupled to an F1-like HY-KERS (Hybrid Kinetic Energy recovery system).  The 6262cc V12 produces 800 CV and the electric motor a further 120 kw (163 cv) for a total max power of over 960 CV and max torque of 700 Nm. The hypercar goes from 0-100 in less than 3 secs and 0-200 in less than 7 secs with max speed is limited to 350 km/h.
If rumours are to be the good news is the car is owned by Industrialist and car enthusiast Gautam Singhania and will be on display at the 2015 Parx Supercar show in Mumbai, which also organized by him.