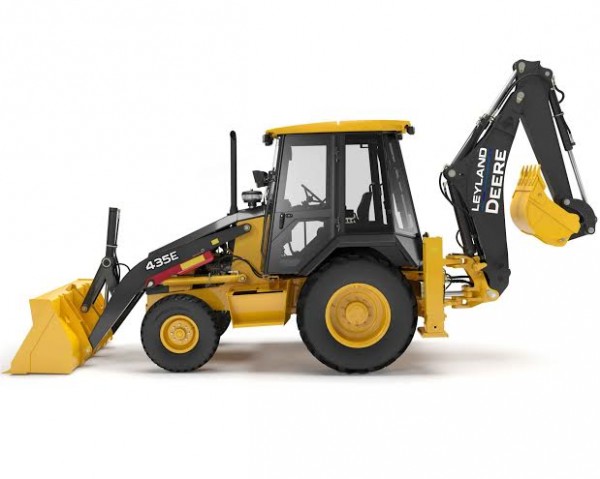 Leyland Deere, the joint venture between Ashok Leyland John Deere Construction Equipment Company unveiled the 435E Backhoe Loader (BHL) at EXCON 2013 event. The new 435E Backhoe Loader is designed to meet economic conditions which demand higher fuel efficiency and lower operating costs. The 'E' in 435E stands for 'Efficiency'.
Highlights of Leyland Deere 435E Backhoe Loader
Powered by the 'H' Series BS III compliant engine that features a mechanical Inline fuel injection pump offering optimal performance
The best-in-class cabin offers better comfort and larger space while easy-access controls offer superior ergonomics
Equipped with India's only BHL cabin, designed and tested to ROPS (Rollover Protection Structure) and FOPS (Falling Object Protection Structure), the 435E BHL offers enhanced safety
The 435E has been designed to target the first-time users/ buyers in the construction industry
Cost Savings up to 20% of EMI
10% improvement in fuel cost
Delivers a minimum of 0.5 litres per hour savings in fuel consumption compared to the nearest competitor
With the launch of the new variant, Leyland Deere is now offering a choice of two backhoe loaders: 435 for high performance and 435E for high fuel efficiency.
The company has 155+ touch points across India and has managed to delight 1000 customers in two years of launch.