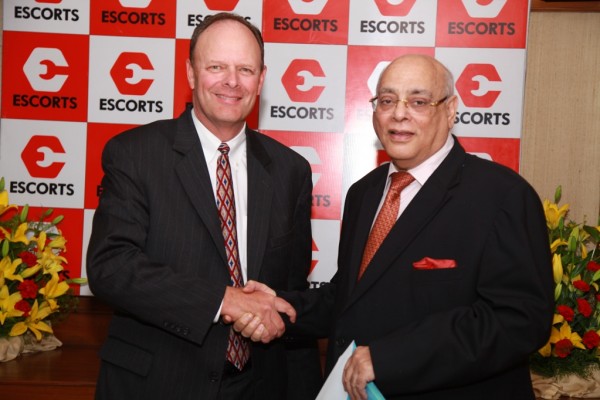 Farmers to get customized repayment options linked to income cycles offered via the dealer network of Escorts
Ultra-fast availability of loan, simple documentation process and  robust back end support from DLL
Escorts Limited today announced the signing of a partnership with DLL Group's Indian subsidiary (De Lage Landen Financial Services India Private Limited, hereafter DLL) to launch "Escorts Credit" which will provide retail tractor loans to Escorts customers with convenient and fast loan options. This agreement between Escorts Limited, India's leading tractor manufacturer, and DLL, a fully owned subsidiary of the Netherlands headquartered Rabobank – one of the world's leadingbanks in thefood & agriculture sector, will help Indian farmers, who wish to purchase Escorts tractors, by providing easy and quick finance with customized repayment options linked to their income cycles. This partnership will also be able to empower farmers who cannot afford an all out cash purchase of the machine, thereby giving impetus to mechanization of Indian agriculture.
After the signing, Mr. Rajan Nanda, Chairman & Managing Director, Escorts Limited said, "Escorts has always played a responsible role in nation building by customizing its products and solutions around national interest. Our partnership with DLL will be yet another step towards fulfilling Escorts' vision of an empowered farmer, by delivering prosperity to his doorstep. With the objective of eradicating poverty and making agricultural solutions accessible to every farmer in the country, I am sure this association will be a stepping stone in the right direction."
Speaking on this occasion, Mr. Nikhil Nanda, Managing Director, Escorts Limited says, "With Customer Centricity as our core, Escorts has been devising solutions that help create more value for farmers, and provide the much-needed impetus to agricultural mechanization in the country. We are happy to partner with DLL to further extend the accessibility of Escorts' agri-machinery products to farmers who seek easy and customized financing solutions. As the Indian farmer becomes more progressive and aspirational, Escorts Credit will serve as an enabler to help him buy tractors of his choice, more conveniently than ever before."
Commenting further on the partnership, Mr. Geert Kraak, Director and Country Manager, DLL India says, "We are pleased to sign this agreement with Escorts, heralding our first foray in India's agriculture sector. We are a global provider of asset based financing solutions and Escorts is one of India's leading engineering conglomerate with most trusted agri-machinery equipment. I am sure, together we shall make farming easy, more attractive and a profitable venture in India by enabling farmers to buy the tractor of their choice."
In addition, Mr. Tom Meredith, President of DLL's Global Food &Agri Business Unit says: "This agreement fits perfectly with our ambition to grow DLL's footprint in developing markets, and India being the largest tractor market globally in number of units sold is on top of our list to develop., We are very happy to do so with a trusted name like Escorts".
The agreement was signed by Mr. Rajan Nanda, Chairman cum Managing Director on behalf of Escorts Limited and Mr. Tom Meredith, President – Global Business Unit, Food & Agri on behalf of DLL in presence of Mr. Nikhil Nanda, Managing Director, Escorts Limited and Mr. Frans Janssen, General Manager– Asia Pacific Region, DLL. Also present on the occasion were Mr. S. Sridhar, CEO, Escorts Agri Machinery and Mr. Sameer Tandon, CSMO, Escorts Agri Machinery.
About Escorts Limited:
The Escorts Group is among India's leading engineering conglomerates operating in high growth sectors of Agri Machinery, Material Handling & Construction Equipment, Railway Equipment and Auto Components. The Group has earned the trust of over 5 million customers by way of product and process innovations over six decades of its existence. Escorts endeavors to transform lives in rural and urban India by leading the revolution in agriculture mechanization, modernization of automotive & railway technology and transformation of Indian construction.