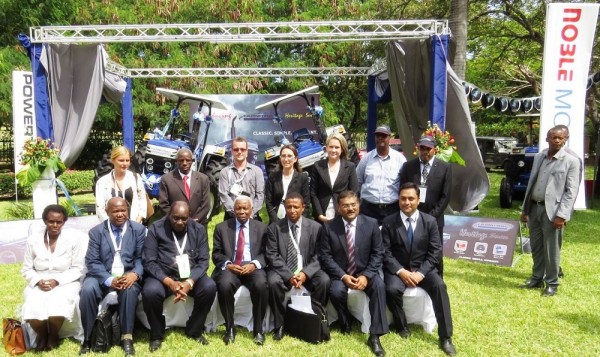 Assists Tanzania's Food Sufficiency Program with its Farmtrac Heritage Series
Escorts Limited, India's leading tractor manufacturer, announced the launch of its most effective Farmtrac Heritage Series at Tanzania's biggest agriculture show, East Africa Agri Business Exhibition 2015. Escorts' Heritage series, after receiving tremendous response at "Agritechnica 2013" in Hannover, Germany and "NAMPO 2014" in South Africa, is now being introduced in Tanzania. The 6075 four wheel drive (4WD) tractor was unveiled by H. E. Mohamed Gharib Bilal, Vice President, United Republic of Tanzania. With world-class technology and impressive features delivering maximum productivity and safety – this Classic, Simple and Efficient new tractor series is set to bring about generational change in the tractor markets of Tanzania and contribute towards an agricultural transformation.
With this product, Escorts Limited brings in a stunning mix of Indian engineering excellence and world class design. Farmtrac 6075 is a futuristic technological marvel that is amenable to tough front and reverse haulage operations, and it comes across as a custom made self-contained tractor for rural roads offering good value for money.
The ergonomically engineered Farmtrac Heritage 6075 is the most fuel efficient tractor in its class. It makes more economical proposition than the archaic two wheel drive technology based tractors with similar horse power from other market players. This tractor delivers maximum machine control and safe driving experience without any technological complexity.
Delivering extra traction with better economics, it is most suitable for all kind of agri & commercial haulage & multiple hard soil farm applications as required by farmers of Tanzania. The new offering is aimed at driving a revolution in sub 80 HP farm market through world class, competitively price product.
Speaking on the occasion, Mr. Rajesh Kumar, Vice President International Business, Escorts Agri Machinery, said, "Escorts group has more than 2000 satisfied customers in Tanzania. We take pride in having had the opportunity to bring our tractors under the KILIMO KWANZA (Agriculture First) program to accelerate Tanzania's march toward becoming a food surplus country. Cementing further our ties with this land, I am today happy to announce the launch of our premium range of powerful yet fuel efficient Farmtrac Heritage tractors. Ergonomically engineered and custom designed for African market. Escorts' Farmtrac Heritage 6075 tractor is ideal for Tanzania's farmers who seek maximum productivity along with harvest benefits. We hope that our technology will help us to achieve our shared vision of a prosperous and bountiful Tanzania."
Speaking on the occasion, Mr. Max Mhagama, Sales Manager, Noble Motors Limited said, "We are very happy today in bringing the Farmtrac Heritage Series of tractors to the doorsteps of Tanzania farmers. I am confident that these tractors with European style and comfort will enable our farmers to work more and earn more at ease. Noble Motors Limited has been a proud partner of Escorts Ltd., the brand synonymous with trust and reliability across countries. Together with Escorts, Noble will continue to offer technologically advanced products that bring prosperity to the Tanzanian farmers."
The launch is followed by a road show across country from 31st January to 8th February 2015, starting from Dar-Es-Salaam and ending in Hanang.
About Escorts
The ESCORTS GROUP is among India's leading engineering conglomerates operating in high growth sectors of Agri Machinery, Material Handling & Construction Equipment, Railway Equipment and Auto Components. The Group has earned the trust of over 5 Million customers by way of product and process innovations over six decades of its existence. Escorts endeavors to transform lives in rural and urban India by leading the revolution in agriculture mechanization, modernization of automotive & railway technology and transformation of Indian construction