EagleRider Inc., the motorcycle experience industry leader, announced the opening of its first exclusive India location in New Delhi.
EagleRider India is incorporated to provide a differentiated motorcycling experience and pioneer luxury rental. The company will offer Indians and tourists to explore India with the world-renowned pioneer of motorcycle travel experiences.
The first store of EagleRider India at New Delhi is now operational; for domestic and international travellers. They will now be able to hire luxury motorcycles on self-drive and pre-determined guided tours or tailor-made adventure holidays within India and neighbouring countries like Nepal, Bhutan, Myanmar.
The store offers motorcycles, which includes a fleet of Harley Davidson, Triumph and Royal Enfield's. The premium motorcycles can be rented on daily or longer durations and motorcycle enthusiast need not worry about the maintenance of motorcycles.
Conveniently located near the airport the store offers tours tailored to all desires with luxurious hotel choices all over India, a budding fleet of iconic motorcycles, and the option of going with a region-specific tour guide and chase van for comfort, a spare bike, and hassle-free riding.
The brand store showcases the international brand's philosophy and the décor has been inspired by the love for motorcycles. The store features an interesting visual merchandising format and innovative product displays.
The riders get a free open face DOT approved helmet. They also have the option to rent safety riding gear, cameras and GPS.
For longer travel itineraries, EagleRider India staff will install saddle bags to carry luggage and if there are larger groups, a chase van to carry spares, luggage, camping gear, tech support, medical first aid, etc. will be arranged. The customers also get the choice of luxury routes and select hotels to make their stay delightful and a memorable one.

Franchise Owner EagleRider India, said, "EagleRider was launched in the year 1992 in USA and now has branches across the world.
There is a growing need for luxury bike tours in India because of the number of people owning high-end motorcycles like Harley or a Triumph that cost nothing less INR 5,00,000 and move northwards. India has amazing motorable roads and is a popular tourist destination. The launch is reflective of the need for great motorcycle tours that are all about the experience of luxury."
Chris McIntyre, Founder and CEO EagleRider, quoted, "We all know that riding motorcycles is fun. But riding a motorcycle as you explore a legendary country like India with so much history in every mile and so many interesting things to see and do is an entirely unique and unforgettable experience. EagleRider is immensely proud to finally be able to make that experience a possibility for fellow riders across the World."
Commenting on the first exclusive store, Mr. Sodhi added "EagleRider India is striving to provide a unique retail experience for the riding community. The store houses a range of high performance parts along with luggage and gear. The store has been designed not just as a usual showroom but as a meeting point for motorcycle enthusiasts and for conversations around motorcycling."
About Eaglerider India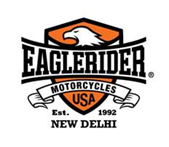 EagleRider India is an extension of the global conglomerate that the EagleRider Group now is. With over two decades of existence, EagleRider revolutionized the concept of bike rentals, becoming the world's largest luxury motorcycle tour company.
With an envious fleet of Harley-Davidson®, Triumph®, Royal Enfield ®, EagleRider India takes care of the needs of every motorcycle enthusiast. The guided motorcycle tours are tailor-made to not just suit their travel interests but also help them explore the country landscapes in the best way possible.
Apart from well thought out tours, guided or for self-drive, EagleRider India also provides a host of services like timely shuttle services, experienced riders as guides, state of the art technologies and luxurious hotel stays, all part of the packages. EagleRider India's exclusive brand and hospitality partners are bound to make the travel experience even more enriching.