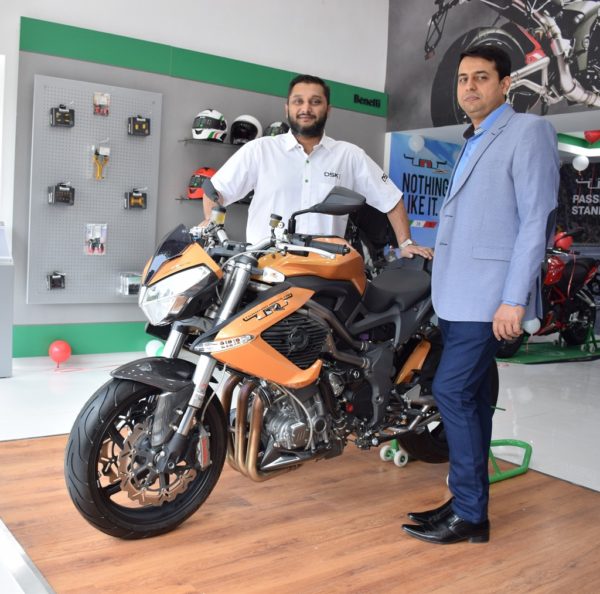 After witnessing an exceptional response in Pune, DSK Motowheels, opened a new exclusive showroom for Italian superbiking brand Benelli in the city.
The state-of-the-art showroom is situated in a plush locale at 'Fortune, Baner road, Sakal Nagar near Laghu Bandhu jewellers, under the dealership of 'A. B. Automotive'. Booking and deliveries are now open at the showroom.
This exclusive DSK Benelli showroom houses the sporty-looking Tornado Naked Tre or TNT superbikes that encompass the TNT 25 – Single Cylinder 250cc engine,  TNT 300 – In-line, two cylinder, 300cc engine; TNT 600i  – In-line, four cylinder, 600cc engine; TNT 600 GT – In-line four cylinder 600cc engine; TNT 899 – In-line, three cylinder, 898cc engine and TNT R – In-line, three-cylinder 1131cc engine.
Benelli will soon be launching the Tornado 302 in the Indian market and bookings are open.
Located in one of the liveliest areas of the city, the outlet will be in complete consonance with the premium luxury that the DSK Benelli brand stands for. Well-trained and knowledgeable staff is available in order to assist the patrons in sales as well as service.
The showroom will showcase the entire gamut of DSK Benelli superbikes at attractive price points: (Ex-showroom, Pune)
TNT 25 – Rs. 1,90,000.
TNT 300 – Rs. 3,19,000.
TNT 600i (ABS) – Rs. 5,97,000.
TNT 600 GT – Rs. 6,16,000.
TNT 899 – Rs. 9,78,000.
TNT R – Rs. 12,18,000.
DSK Benelli offers a four years and unlimited kilometres extended warranty, along with unique prepaid service packages.
DSK Benelli owners also have access to an entire range of attractive Benelli accessories and merchandise that include superlative CNC parts, riding gear, helmets with sleek design and safety features, to quirky stickers and decals.