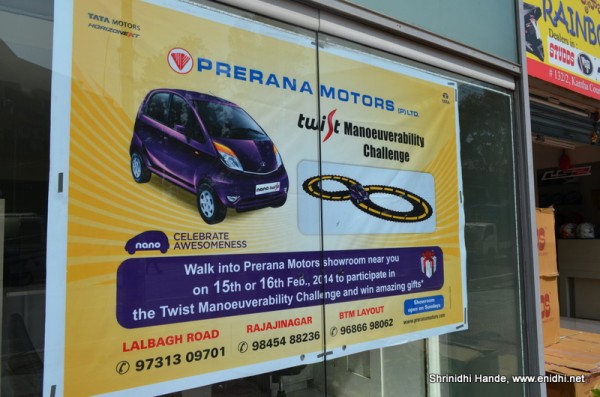 Tata Motors started the year with a very exciting product with the launch of the Nano Twist on 13th January. The Nano Twist is positioned as a smart city car comes with electric power assisted steering system which offers you a relaxed and stress free drive especially in the crowed roads of Indian metro cities.
Prerana Motors, a Tata motors dealer in Bangalore to showcase the Nano Twist's hassle free & relaxed driving have a unique invitation for the prospective customers. Just walk into the showrooms and you'll see no cars there other than the Nano Twist only in a cool Damson Purple colour. Prerana Motors has introduced a unique marketing approach with a challenge to drive the Nano Twist inside the showroom, in any pattern you like and you could win some exciting prizes.
The idea is to let customers experience Nano's easy manoeuvrability and new electric power steering. The new Twist has small turning radius of 4 metres only and with newly added power steering, it is fun to zip it around.
Go try it out the New Nano Twist at any of the 3 Prerana Motors showrooms and you might walk away with a surprise gift too.
Click here for a detailed review of Tata Nano Twist. Also checkout these nice sunset photos with Nano twist