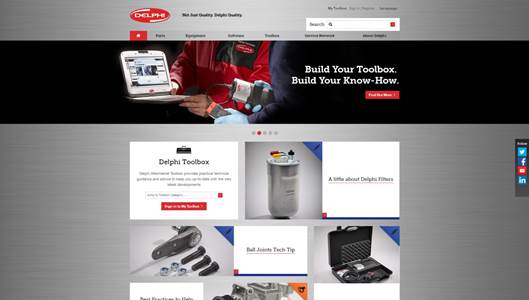 New website — delphiautoparts.com — provides technicians a comprehensive "how-to" information resource, as well as Delphi's complete range of product and service offerings.
Delphi Product & Service Solutions (DPSS) announces the launch of its new global website, delphiautoparts.com. The new website is designed to provide DPSS customers and their customers, a comprehensive, one-stop digital resource to find the technical service and repair information they need for more efficient vehicle service and repairs.
"Because of the increasing complexity of vehicle systems, it's important for Delphi's aftermarket customers to have immediate access to the latest technical information," said Philippe Desnos, president, DPSS. "Launching delphiautoparts.com reinforces this commitment by providing a reliable resource for our technicians and customers to access essential information at any time, from anywhere, all from a single access point."
Delphiautoparts.com uses responsive design, which adjusts to fit on any screen, ensuring optimal navigation and functionality, regardless of whether users are visiting the site from a laptop, tablet or smartphone.  The site also provides visitors with "My Toolbox," customizable library that users can set up, personalize, store and organize content they find useful.
 @DelphiAutoParts launches global website, delphiautoparts.com, provides technicians comprehensive "how-to" information resource.
Website highlights:
More than 50 instructional videos
More than 900 technical articles, tech tips and best practices
Content available in multiple languages, including Chinese, English, French, German, Italian, Korean, Polish, Portuguese, Russian and Spanish
'Ask Us' forum where technicians can ask and receive expert advice from Delphi ASE certified technicians
Delphi parts, equipment and software information
Regional product catalogs for easy part look up
Press and media center for the latest Delphi and industry news
Intuitive design optimized for multiple devices
Search function  for easy navigation
About Delphi:
Delphi Automotive PLC a leading global supplier of technologies for the automotive and commercial vehicle markets.  Headquartered in Gillingham, England, Delphi operates major technical centers, manufacturing sites and customer support services in 32 countries, with regional headquarters in Bascharage, Luxembourg; Sao Paulo, Brazil; Shanghai, China and Troy, Michigan, U.S. Delphi delivers innovation for the real world with technologies that make cars and trucks safer as well as more powerful, efficient and connected. Visit www.delphi.com/am