Datsun has launched 'Datsun CARE', a comprehensive service package for new redi-GO customers that assures complete peace of mind and hassle free ownership across the country. Customers can expect considerable savings in periodic maintenance and general repairs along with other value added services.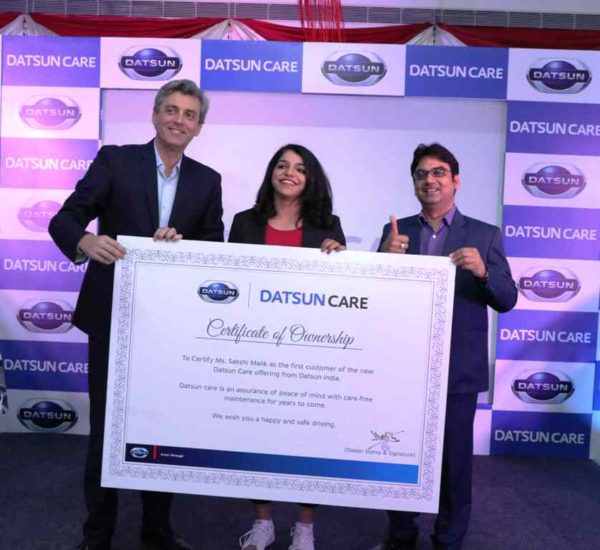 Datsun redi-GO SPORT brand ambassador and Olympic medallist Sakshi Malik, was the first customer who availed the special Datsun CARE package.Commenting on her association with Datsun, Sakshi Malik said "I love driving my Datsun redi-GO, it is a perfect representation of my personality. Now with Datsun Care it becomes more convenient and easier to own and drive my redi-Go with a complete peace of mind. Many congratulations to the Datsun team for this innovative launch that puts consumers ease and convenience at the core."
Under the terms of the Datsun CARE comprehensive service package, customers can save approximately 10% on periodic and general repairs. In addition, the customer gets a host of FREE value added services worth around Rs. 5000. Other than cost savings, it incorporates almost 100% coverage of parts, comes with 24×7 road-side assistance and is transferable. The Datsun CARE package covers not only scheduled services and their associated spare part costs, labour charges and taxes, but also other important value additions. These include replacement of brake and clutch components, replacement of wiper blades once a year, wheel alignment and balancing, extended warranty with road-side assistance, exterior washes and interior cleaning.
Most associated costs of maintaining the redi-GO are included in the Datsun CARE plan, except for accident damage, tyres and battery replacement. What's more, the plan is specific to the car, so even when it changes hands, the Datsun CARE plan is transferred to the new owner. This benefits the seller by commanding a better resale value, while the buyer gains an assurance of quality maintenance along with the car.
 The service plan is valid at Nissan-Datsun service centres across the country. Under Datsun CARE, there are three packages for redi-GO customers to choose from:
| | | |
| --- | --- | --- |
| 3 years/30,000 kms | 4 years/40,000 kms | 5 years/50,000 kms |
| Total value:       INR 22,287 | Total value:       INR 31,495 | Total value:       INR 43,298 |
|       Customer price: INR 15,500 |       Customer price: INR 21,500 |       Customer price: INR 32,000 |
| Customer saves:  INR 6,787 | Customer saves:  INR 9,995 | Customer saves: INR 11,298 |