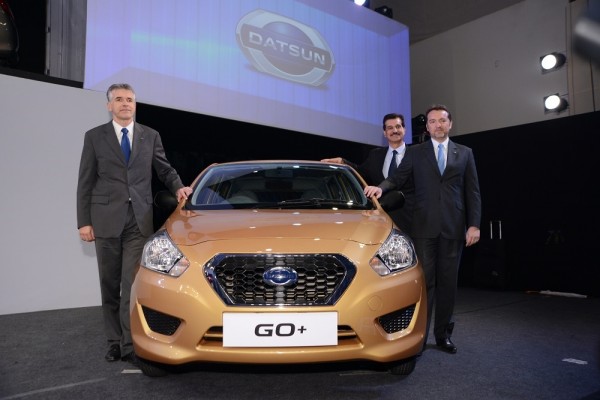 Datsun GO+ is India's first sub-4 meter Compact MPV
Datsun GO+ will be offered in four variants – D, D1, A & T and five colour options
Range topping T variant to come with electronic power steering, front power windows and first in segment Mobile Docking Station
Datsun India is opening up a whole new world of 'more' for Indian car buyers with the launch of Datsun GO+. Datsun's second offering for India, new Datsun GO+ is a sub-4 meter Compact Family Wagon with a spacious interior and flexible three-row seating. The Datsun GO+ is a clean sheet design that not only sets new standards, but also creates its own market segment – Compact MPV.
The Datsun GO+ range will be priced competitively starting at Rs. 3.79 lakh, ex-showroom, Delhi and will be available across Nissan and Datsun exclusive showrooms in India.
Details of the prices are as follows:
| | | |
| --- | --- | --- |
| Variant | Ex-Showroom Price (Mumbai) | Ex-Showroom Price (Delhi) |
| Datsun GO+ D | INR 3.96 lakh | INR 3.79 lakh |
| Datsun GO+ D1 | INR 3.98 lakh | INR 3.82 lakh |
| Datsun GO+ A | INR 4.33 lakh | INR 4.15 lakh |
| Datsun GO+ T | INR 4.81 lakh | INR 4.61 lakh |
Speaking at the India launch, Vincent Cobee, Global Head of Datsun, said, "Datsun GO+ is our second model for India in a span of one year and confirms our commitment to the Indian market. It delivers on our promise of making motoring more accessible and more attractive for Indian customers and helping them realize their dream of car ownership. The Datsun GO+ also opens up a completely new segment of sub-4 meter Compact Family Wagon in the country and we are confident that the '+' will certainly add new possibilities to our customers' lives."
Adding to this, Guillaume Sicard, President–Nissan India Operations, said, "The Datsun GO+ is our effort in recognizing the needs of evolving Indians who are always seeking for more. This compact family wagon ensures just that – more comfort, flexibility and practicality. All this is packaged in a stylish and distinctive body style and backed by Nissan's technological expertise. With this product, we are not only committed to deliver more value to our customers, but also a superior ownership experience to boost their lifestyle."
With an all-new and distinctive design language, Datsun GO+ has been carefully crafted to reflect the freshness and direction of the 21st century Datsun brand. Unique to its core, the Datsun GO+ adopts extended squared-off estate car styling, allowing it to accommodate a third row of seats and added luggage space – another first in the Sub–4 meter segment.
A class-leading boot space of 347 litres, with the third row folded, adds to Datsun GO+'s list of best in class features. This modern compact family wagon is conceptualized to offer best-in-class roominess and a superior driving experience in terms of performance, quality and fuel efficiency.
It offers first-in-segment features such as fatigue reducing front seats with Spinal support, Smart Meter with optimum gear shift indicators and digital trip computer, Follow Me Home headlamps, Intelligent speed sensitive Wipers with Teardrop function, connected front seats and ventilated front disc brakes. Adding convenience to the cabin is the unique Mobile Docking Station (MDS) available in the Datsun GO+ T variant.
The Datsun GO+ is equipped with a compact, modern and highly efficient 1.2-litre, three-cylinder engine which delivers 68PS and 104Nm. The Datsun GO+ also boasts best in class fuel economy of 20.6km/l and the lowest Total Cost of Ownership (TCO) amongst its competitors.
The Datsun GO+ colour palette will feature 5 colours – Red, Gold, White, Silver & Bronze Grey. Datsun GO+ will come with a two year / unlimited kilometers warranty. Another segment first is an optional extended warranty for additional two years that covers unlimited kilometers.
About Nissan Motor India Pvt. Ltd.
Nissan Motor India Private Ltd. (NMIPL) is a 100% subsidiary of Nissan Motor Co. Ltd. Japan. The company was incorporated in 2005 and offers innovative and exciting products across hatchback, MUV, SUV and sedan segments in India. Nissan together with its global alliance partner Renault set up a manufacturing plant and a Research & Development Centre near Chennai. Nissan in India has a portfolio of two brands, Nissan and Datsun. For more information, visit www.nissan.in.
About Datsun
Nissan Motor Co., Ltd. announced the return of the Datsun brand, Nissan's third global brand, alongside Nissan and Infiniti, in March 2012. Datsun provides a sustainable motoring experience to optimistic up-and-coming customers in high-growth markets. Datsun represents 80 years of accumulated Japanese car-making expertise and is an important part of Nissan's DNA. Datsun started sales in India, Indonesia, Russia and South Africa from 2014. For more information, visit www.datsun.co.in.
About Datsun History
Datsun originated in Japan as DAT-GO (the DAT-car) almost a century ago in 1914. The word DAT means 'lightning-fast' in Japanese but is also a reference to the first letters of family names of the three financiers who supported the business at the time: Den, Aoyama and Takeuchi. Using the same logic, it was promoted as Durable, Attractive and Trustworthy, or DAT for short.
In 1933, Nissan's founding father Yoshisuke Aikawa took over the business with a vision of "mobility for all". The introduction of a light-weight, economical yet resilient car to meet the aspirations of young Japanese people in the early 1930s was named the 'son of DAT' – Datson – which later changed to Datsun. Local engineering and mass-production made the founder's dream a reality.