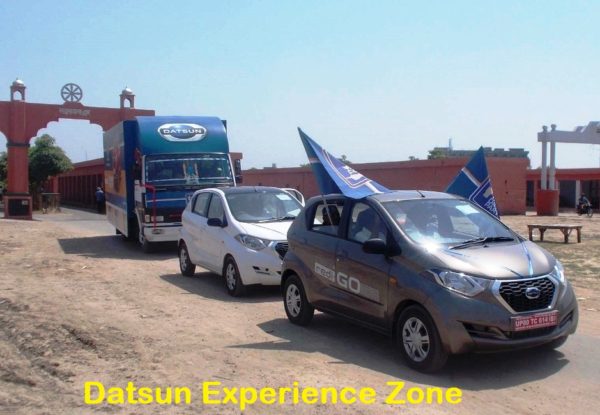 Few months ago, Datsun India had come up with a brilliant idea of setting up mobile display platforms to showcase its cars at mass level. Along with conventional display of cars in showrooms, Datsun decided to reach out to prospective customers through these mobile units. The idea was to make it convenient for people to familiarize themselves with the Datsun line-up.
The 1st Phase of promotion was a great success and Datsun today flagged off the 2nd Phase of the experiential activity which will cover 650 locations all over India in next three months. Eight mobile platforms will be adorned with eye-catching livery that features Datsun's latest brand campaign, #VoteForChange.
The display vans will travel to locations in 40 satellite cities, 82 districts and 250 tehsils within a 50-100 km radius of Nissan/Datsun showrooms. The Experience Zone II tour starts on June 12 and will last for 90 days, following routes which criss-cross the country. Prospective customers can take test drives of the flagship Datsun redi-GO along with GO and GO+ and interact with the Datsun team to understand the cars better.
Jerome Saigot, Vice President, Datsun India said, "The Datsun Experience Zone enables us to engage with customers at a nearby place which is convenient for them. We are taking our showrooms on the road. The Experience Zone is a platform for us to connect with prospective customers and talk about the best-in-class features of the Datsun redi-GO while everyone has a fun time."
"Phase I of the Datsun Experience Zone was a great success, and we decided to extend this activity to Phase II to tap the significant market potential", he added.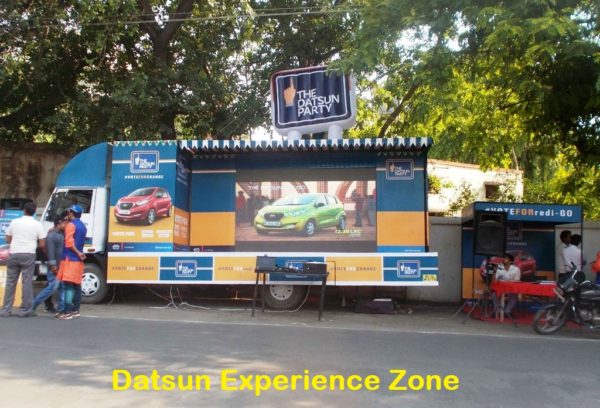 The Datsun Experience Zone is a customer-focused activity aimed at familiarising consumers with the Datsun car line-up in India: redi-GO, GO and GO+. The first leg of the Datsun Experience Zone interacted with thousands of prospective customers. The second leg will help the brand to connect with even more customers at the grassroots level across a wider swath of India's regional cities and villages. The canter vans serve as a mobile platform to engage with customers through various gesture-based games that feature the Datsun redi-GO, and other fun activities.
Datsun Experience Zone II tour – key locations
| | |
| --- | --- |
|  Locations |        Dates |
|  Agra |  16 June 2017 |
|  Pataudi |  29 June 2017 |
|  Amritsar |  06 Aug 2017 |
|  Jaipur |  15 June 2017 |
|  Shillong |  29 Aug 2017 |
|  Mysuru |  14 July 2017 |
The Datsun redi-GO was launched in India in June 2016. It is an attractively priced, modern and highly capable vehicle that combines the roominess, agility and efficiency of an urban hatchback with best-in-class ground clearance (185mm) and the rugged looks of a crossover. Datsun redi-GO has won eight motoring awards in India to date.