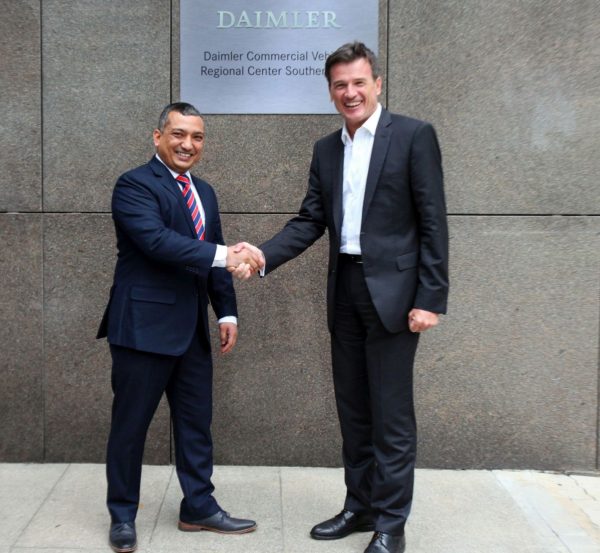 Within seven months of opening the first Regional Centre for Commercial Vehicles in Dubai, Daimler AG has opened another Regional Centre in Chennai for the Southern Asia region. The new operations will oversee sales and service in the six neighbouring markets of Nepal, Bhutan, Bangladesh, Myanmar, Sri Lanka, and Maldives.
Speaking at the opening ceremony in Chennai, Dr. Wolfgang Bernhard, Member of the Board of Management of Daimler AG, responsible for Daimler Trucks & Busescommented: "Within just seven months we have succeeded in realigning our sales and service organization in key regions of growth – close to our customers and with a clear focus on commercial vehicles. In Southern Asia we are now launching the last of a total of six new regional centers. This will also enable us to offer tailored products and services from a single source to our customers in markets such as Sri Lanka, Myanmar or Nepal."
Added Mr. Marc Llistosella, President and CEO of MFTBC and Head of Daimler Trucks Asia: "The Regional Centers are an excellent example of how Daimler Trucks Asia directly benefits from the global reach of our parent Daimler. We expect these Regional Centers across the globe to provide us with substantial further momentum for exports both from Japan and India."
The new Regional Center Southern Asia oversees regional sales and service of a wide range of brands and products from BharatBenz trucks to FUSO trucks and buses, and Mercedes-Benz trucks, buses, and vans. Its market responsibility extends to Nepal, Bhutan, Bangladesh, Myanmar, Sri Lanka and Maldives.
"We are very positive about this region", said Mr. Amit Bisht, Head of the Regional Center Southern Asia. "Demand across our brands and product lines has already been favorable, and with our new setup we see great potential to capture additional sales for Daimler."
Overview of market responsibility of the regional centers
Regional Center Middle East & North Africa:
Afghanistan, Algeria, Bahrain, Egypt, Iran, Iraq, Jordan, Kuwait, Lebanon, Libya, Morocco, Oman, Pakistan, Qatar, Saudi Arabia, Syria, Tunisia, the United Arab Emirates (UAE) and Yemen.
Regional Center Central Africa:
Angola, Benin, Burkina Faso, Burundi, Cameroon, Cape Verde, Central African Republic, Chad, Comoros, Democratic Republic of the Congo, Djibouti, Equatorial Guinea, Eritrea, Ethiopia, Gabon, Gambia, Ghana, Guinea, Guinea-Bissau, Ivory Coast, Kenya, Liberia, Madagascar, Mali, Mauritania, Mauritius, Niger, Nigeria, Republic of the Congo, Rwanda, São Tomé and Príncipe, Senegal, Seychelles, Sierra Leone, Somalia, South Sudan, Sudan, Tanzania, Togo, Uganda, Western Sahara.
Regional Center Southern Africa:
Botswana, Lesotho, Malawi, Mozambique, Namibia, South Africa, Swaziland, Zambia, Zimbabwe.
Regional Center South East Asia:
Brunei, Cambodia, Fiji, French Polynesia, Hong Kong, Indonesia, Laos, Malaysia, Mongolia, New Caledonia, Papua New Guinea, the Philippines, Singapore, South Korea, Taiwan, Thailand, Vanuatu and Vietnam.
Regional Center Southern Asia:
Bangladesh, Bhutan, Maldives, Myanmar, Nepal and Sri Lanka.
Regional Center Latin America:
Antigua, Bahamas, Barbados, Belize, Bermuda, Bolivia, Cayman Islands, Chile, Colombia, Costa Rica, Cuba, Dominican Republic, Ecuador, El Salvador, Grenada, Guadeloupe, Guatemala, Guyana, Haiti, Honduras, Jamaica, Martinique, Montserrat, Netherlands Antilles, Nicaragua, Panama, Paraguay, Peru, St. Kitts, St. Lucia, Surinam, Trinidad & Tobago, Uruguay and Venezuela.