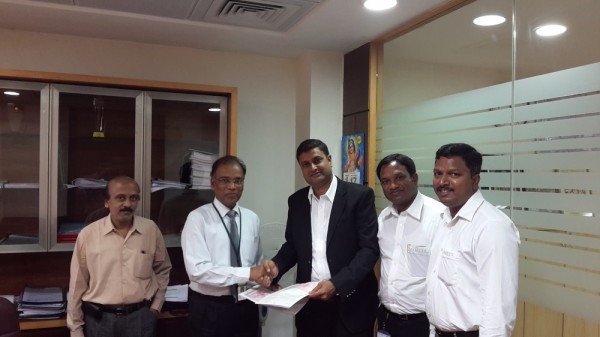 Daimler India Commercial Vehicles signs MoU with Karur Vysya Bank as its preferred financier for commercial vehicles
BharatBenz customers to benefit from KVB Bank's competence in providing suitable products for the CV industry
Daimler India Commercial Vehicles Pvt. Ltd. (DICV) the 100% wholly-owned subsidiary of Daimler AG yesterday signed a Memorandum of Understanding (MoU) with Karur Vysya Bank (KVB), one of the leading private sector banks in Tamil Nadu, to provide commercial vehicle financing packages to customers across the country.
Apart from Daimler's own captive financing brand, BharathBenz Financial, KVB becomes a key financing partner for BharatBenz along with others adding substantial choice and value for customers.
The agreement was signed by Mr. M. Balachandran, General Manager and Group Head – Commercial Banking Group of KVB and Mr. Arghadip Roy, Assistant General Manager and National Head- Retail and Channel Finance, Daimler India Commercial Vehicles Private Ltd. (DICV) and Mr. T.D Jayakar – Senior Manager, Retail and Channel Finance of DICV.
Announcing the tie-up, Mr. Erich Nesselhauf, CEO and Managing Director (DICV), stated, "Having chosen KVB as a partner in financing BharatBenz trucks is the next step in moving towards and expanding our business. This alliance allows us to intensify our presence in vital commercial vehicle markets in Andhra Pradesh, Telangana and Tamil Nadu such as  Namakkal, Thiruchenkode and Sankagiri by offering attractive financial support. Our customers can be assured of competitive financing solutions with tailor-made offerings for our BharatBenz trucks."
Mr. M. Balachandran, General Manager of KVB Bank, added, "This collaboration between KVB and DICV will provide customers easy and seamless financing solutions. We have a wide distribution network with 612 branches with 454 present in the States of Tamil Nadu, Andhra Pradesh and Telangana, thus opening up new avenues for both partners of this relationship."
KVB, Headquarted at Karur, a town in Tamil Nadu, it was set up in 1916 to provide financial support to the traders and agriculturists in and around Karur. In 98 years, the Bank has grown with wider network all over India with specific focus in southern states of the country.