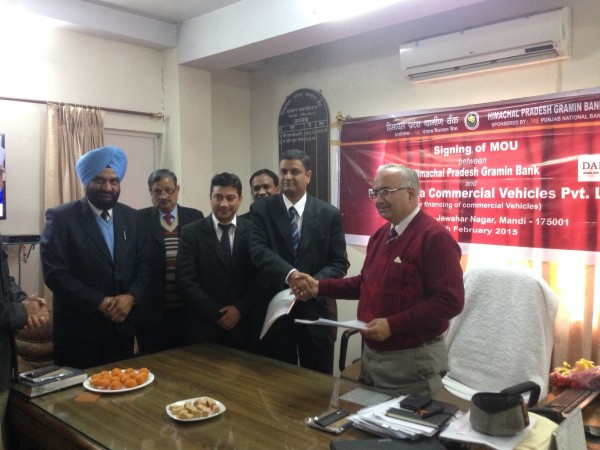 BharatBenz customers to benefit from Himachal Pradesh Gramin Bank's attractive finance options
Daimler India Commercial Vehicles Pvt. Ltd. (DICV), the 100% wholly-owned subsidiary of Daimler AG, signed a Memorandum of Understanding (MoU) with the Himachal Pradesh Gramin Bank to provide commercial vehicle financing packages to BharatBenz customers across Himachal Pradesh.
Himachal Pradesh Gramin Bank will become a key financing partner for BharatBenz along with others adding substantial choice and value for customers. As part of the MoU, Himachal Pradesh Gramin Bank will evaluate the financial needs of the clients and develop appropriate financing packages to BharatBenz customers.
Himachal Pradesh Gramin Bank, sponsored by Punjab National Bank came into existence with the amalgamation of two RRBs, viz. Himachal Gramin Bank, Mandi (sponsored by Punjab National Bank) and Parvatiya Gramin Bank, Chamba (sponsored by State Bank of India) vide Government of India Notification dated 15th February 2013 under section 21 of the RRBs Act, 1976 with its Head Office at Mandi. The area of operation of the Bank is spread over to 12 districts of Himachal Pradesh.
The agreement was signed between Satish Kumar Chawla, Chairman, Himachal Pradesh Gramin Bank and Arghadip Roy, Assistant General Manager & National Head – Retail and Channel Finance and T.D Jayakar, Senior Manager – Retail & Channel Finance from Daimler India Commercial Vehicles (DICV).
Announcing the partnership, Erich Nesselhauf, CEO and Managing Director, DICV, said, "Himachal Pradesh Gramin Bank as our preferred financier allows us to strengthen our presence in the state of Himachal Pradesh, which is a significant commercial vehicle market. We are confident that our customers will benefit from the viable finance options provided by the bank, and they can be assured of competitive financing solutions with tailor-made offerings for our BharatBenz trucks."
Satish Kumar Chawla, Chairman, Himachal Pradesh Gramin Bank added, "We have a wide distribution network in the semi-urban and rural areas.  Truck customers will be keen on trying this exciting truck brand, backed by the confidence of existing financier relations. This symbiotic relationship will help to leverage ours and DICV's strengths, thus opening up new avenues and allowing for a collaborative association."
Daimler India Commercial Vehicles Pvt. Ltd.
Daimler India Commercial Vehicles (DICV) is a 100% subsidiary of Daimler AG, Stuttgart, Germany. DICV produces medium and heavy-duty commercial vehicles for the Indian volume market, under the brand name – BharatBenz. BharatBenz stands for Indian engineering with German DNA. The products have been engineered to serve all major customer segments, from owner-drivers up to large fleet operators. The efficiency of BharatBenz trucks is an optimal fit for customers keen on efficiency, a low Total Cost of Ownership over the life-cycle and highest profit potential for their businesses. The state-of-the-art production plant at Oragadam, near Chennai, spreads over 400 acres (160 hectares). It includes a modern test track designed to simulate Indian conditions – making it one of its kind in Asia.  DICV has a total dedicated investment of over INR 4400 crs. (approximately €700 million).
The Company also handles Production, Marketing, Sales and After Sales of Mercedes-Benz Actros Trucks in India. Mercedes-Benz Trucks with the Brand Promise "Trucks you can Trust" are renowned world-wide for their reliability and efficiency under most extreme operating conditions, as well. These trucks also offer the best that Truck Technology has to offer. The Daimler Bus division in India was merged with DICV in April 2013. In May 2013, a new range of FUSO trucks were launched as part of Daimler's 'Trucks Asia' strategy. In March 2014, DICV laid the foundation stone for its upcoming Bus plant. This plant whence in completed in 2nd quarter 2015 will roll-out buses under the brands Mercedes-Benz and BharatBenz. Sustainability being a core of Daimler's corporate culture, DICV will focus on creating efficient, reliable and ecologically friendly products.
BharatBenz
BharatBenz is the Indian truck brand of Daimler AG, the world's largest Commercial Vehicle manufacturer and inventor of the truck. Backed by over a century of global trucking experience and an in-depth understanding of the Indian terrain, BharatBenz is here to transform the country's trucking industry. BharatBenz offers Indian customers an entire truck portfolio in the 9 to 49 tonne range across various applications. The name – BharatBenz – brings out the two most defining qualities of a brand that is being built exclusively for India. 'Bharat' carries the values, ideologies and spirit of the nation, and reinforces the brand's commitment to serve the Indian market. 'Benz' upholds the lineage of innovation, technological brilliance and engineering excellence that have given unparalleled performance and great value for generations. Powered by the synergy between global leadership in technology and local deep rooted customer knowledge, BharatBenz builds robust, reliable, performance-oriented trucks to drive maximum productivity and deliver maximum value to customers across the country. With BharatBenz, a new era in Indian trucking has arrived.