As a run-up to the 8th 'Busworld India' Exhibition to be held on 29th to 31st August  at Bangalore, a road show was organised at New Delhi on Saturday, 4th August to showcase the potential, networking opportunity and exposure to the latest technology and services at the 8th edition of Busworld India.
The event was powered by Association of State Road Transport Undertakings (ASRTU), BOCI and supported by Indian Tourist Transporters Association (ITTA) and Delhi Contract Bus Association (DCBA). Office bearers and members of All India Motor Transport Congress (AIMTC) and All India Transport Welfare Association (AITWA) were also present at the occasion. More than 500 members from these bodies also attended the event.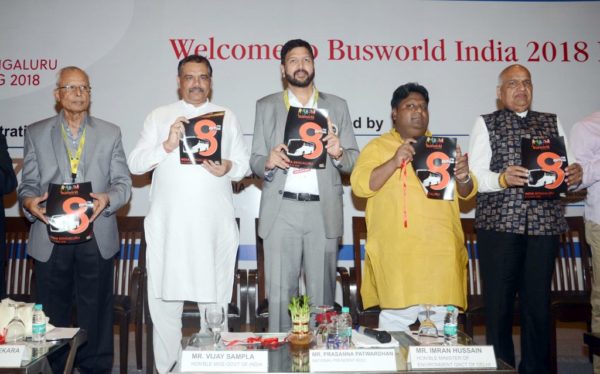 Mr. Vijay Sampla, Hon'ble Minister of Social Justice & empowerment, Govt. of NCT of Delhi was the chief guest at the event. Mr. Satyender Jain, Hon'ble Minister of Health, Govt. of NCT of Delhi & Mr. Imran Hussain, Hon'ble Minister of Environment, were Guests of Honour.
Mr KT Rajashekhra, Chairman-BOCI, Mr Prasanna Patwardhan, President-BOCI,  Kultaran Singh Aitwal, Chairman-AIMTC, Mr SK Mittal, President-AIMTC, Mr Kishan Yadav, President-ITTA, Mr S Jasbir Singh, Vice President-DCBA, Mr Sandeep Kumar, Tata Motors, Mr Rajan Sharma-Interads Exhibitions  & Mr Pradeep Singhal, President- AITWA were some of the dignitaries who graced the event.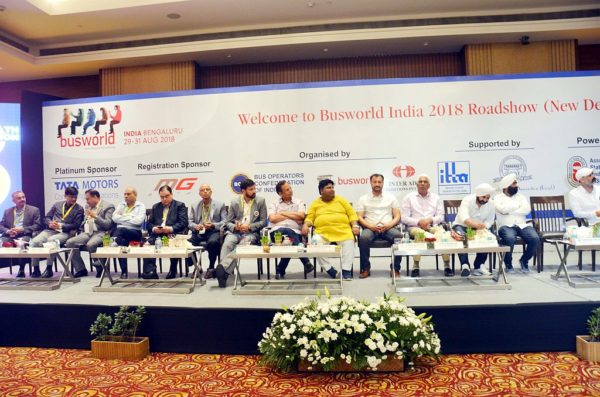 Mr Sandeep Kumar, Head-Sales & Marketing-CV Passenger, Tata Motors made a presentation about the various commercial passenger vehicles from Tata Motors to the audience.  Speaking on the occasion, Mr Sandeep Kumar said"Tata Motors continues to remain committed to provide the best, safe, comfortable, affordable and sustainable public transport across India and we look forward to participating in the forthcoming Busworld India at Bengaluru in August 2018."
Presentations were also made by heads of BOCI & ITTA who also pointed out the problems being faced by this sector due to issues like fitness of vehicles, speed governors,  total lack of parking space etc.  The ministers from Govt of NCT of Delhi addressed the gathering and assured the sector of all the cooperation and support in sorting out the various issues faced by this sector within the power of the state government.
Mr Prasanna Patwardhan, President, BOCI said "BOCI and Busworld came together to promote common purpose- to promote public transport. It was in our interest to have a synergy with Busworld, as it will provide international products and exposure to our members. We are having our Annual General Meeting (AGM) during Busworld 2018 and we expect 1500 to 2000 members to join us for this AGM as well as attend the exhibition from 29-31 August at, BIEC,  Bengaluru"
Feeling encouraged at the enthusiastic response the road show received, Mr Rajan Sharma, MD, Inter Ads Exhibitions Pvt. Ltd. said "Inter Ads Exhibitions, along with Busworld international has been organising Busworld India for more than a decade now. In the 8th edition we have seen around 40% growth in the show size compared to the 7th edition. We have had three road shows his year which were organised in association in BOCI in Chennai, Mumbai and Delhi. All the three were a curtain raiser for our exhibition in Bengaluru. This year Tata motors is the platinum sponsor for Busworld India and is the event is powered by BOCI and supported by ASRTU. We look forward to a great show this year."