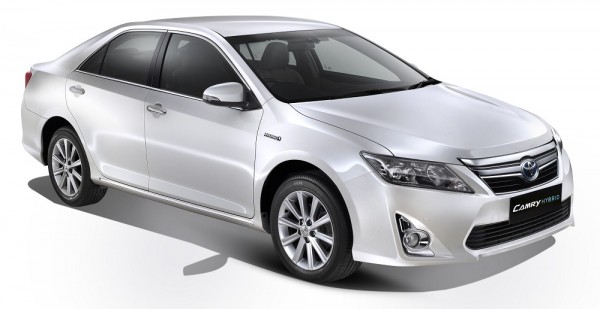 Toyota pioneered hybrid technology in the global automotive market and since then has successfully introduced it in many developed markets.  In India, after launching the Prius, it debuted the first locally manufactured hybrid – Camry Hybrid – a year ago. Toyota's hybrid journey in India marked an important milestone with Camry hybrid completing a year. The vehicle is manufactured at a separate assembly line within Toyota Kirloskar Motor's second plant located in Bidadi, near Bangalore, in Karnataka. Globally India is the 9th country to manufacture Toyota hybrid vehicles.
Based on its belief that environment-friendly vehicles can truly make a difference if they are widely used, Toyota has endeavored to encourage the mass-market adoption of hybrid vehicles. Toyota understands that the only way to overcome carbon emission woes is by adopting "alternative motoring". It is with their use of futuristic concepts and technology that Toyota continues to broaden the extent of this commitment with their outstanding success in Hybrid Technology.
Mr. Naomi Ishii, Managing Director said "Energy crisis and increasing pollution are some of the gravest problems faced by the world today. Toyota aims to lead the future of mobility by addressing these challenges. With innovation and automotive solutions Toyota endeavors to lead the way to the future of mobility and build "better cars and communities" in Asia, in harmony with the environment. Toyota has yet again achieved an important milestone, with its cumulative global hybrid sales crossing the 7 million mark, in October.
Mr. N Raja, Director and Senior Vice – President, Sales and Marketing said "We would like to see increasing sales of Hybrid in India, we look forward to one and all joining us in this drive to popularize this technology and its use. We would like to thank our customers for their encouraging response. We have so far sold 541 units of Camry Hybrid, since launch. Currently 75% of Camry sales are hybrid. The vehicle has been appreciated for its ideal combination of a luxury sedan and hybrid technology. Looking at the response we are encouraged to consider bringing more hybrid vehicles to India."
How it works – With an apt name like Hybrid which means 'fusion', the Camry hybrid combines a newly developed hybrid exclusive 2.5L Beltless petrol engine with an electric motor. The vehicle runs on Hybrid Synergy Drive, which intelligently senses when to switch between the two power sources – petrol engine and electric motor. It controls the engine and motor output for optimum fuel efficiency. The battery supplies electricity to the motor, enhancing the driving power.
First in segment luxury features
Ideal combination of a luxury sedan and hybrid technology – The Camry Hybrid has been styled befitting a prestige sedan and is fully loaded with high-end luxury features.
Power recline rear seat
Rear armrest with controls for power recline rear seats, power sunshade for rear windshield, audio system and air conditioning
3 Zone Air conditioning facilitates individual temperature controls for the driver, front passenger and rear passenger, enabling perfect comfort for everyone
Just like conventional cars
Maintenance same as petrol car
No external charging required. It charges itself during driving
Unlike electric cars, hybrid runs long distance like conventional cars. Hence, there is no  limit on the  distance it can travel
The speed range is similar to a conventional vehicle
 Hybrid advantages
Enjoy a smooth ride like an electric car. The vehicle starts and runs on the battery predominantly with the engine operating/starting only when required. This helps the vehicle to maintain the lowest NVH in its segment and thereby the quietest drive.
The engine and motor together give an impressive combined power output of 205 PS.
In addition to powering the vehicle, the motor is activated as a generator to convert the moving vehicle's kinetic energy into electricity. The generated electricity charges the battery. This process, usually happens at the time of decelerating and braking and is called regenerative braking.
The vehicle gives an exceptional mileage of 19.16 kmpl*, the best in its segment.
A testimony to its hybrid technology the car produces just 122.8 gm of CO2 emissions per km of driving, which is far lesser than the conventional vehicles of similar engine size
Toyota Hybrid's outstanding success
A pioneer- First manufacturer to introduce the hybrid technology
1st manufacturer to launch hybrid car Prius commercially
A Leader- No. 1 in  global hybrid market
Sold more than 7 million hybrid vehicles globally
Largest range of hybrid cars (compact cars to commercial vehicles)
Hybrid accounts for 14% of Toyota's global sales &  44% of Japan's  domestic sales
 Toyota leading the future of mobility and automotive solutions
Toyota has positioned hybrid technologies that enable the use of different fuel combinations, including the component technologies necessary for development of various environment-friendly cars, as core environmental technologies for the twenty-first century. Toyota therefore plans to continue working to raise performance, reduce costs, and expand its product lineup—including that of non-hybrid environment-friendly vehicles—to create vehicles that are popular with consumers.
*As certified by test agencies under ideal conditions