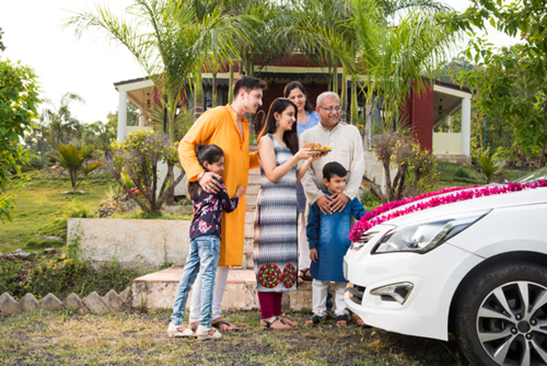 It is often said that the most joyous events in your life are opening your first paycheck, getting married to your love, buying a dream home and birth of your child.
Let us just add one more 'milestone' to this list – Buying your dream car!
Indeed, buying a car is an important milestone in anyone's life. The moment you sit behind the steering wheel for the first time, it is always extremely special.
So, if you are thinking of buying a car soon for your family, we are giving you a list of six things to take care of. This will ensure that you choose a car that is perfectly suited to your family's requirements.
Budget
Before you visit the dealership, comprehend the amount you can comfortably bear to pay. It's basic to your family's financial wellbeing. In simple words, determine the budget for the car.
Have a sense of how much downpayment can you make and how much can you afford to pay as monthly EMIs. Take a quick look at your income and savings while you determine the budget for your car.
Seating Capacity
The next big question you should ask yourself is "how much room will I require in my vehicle". If you have a small family, you would not need anything more than a regular four-door sedan. But, if you have a big family and a busy lifestyle, you will need additional space to carry extra passengers.
Therefore, figure out how much seating space will you need in your car. While doing so, consider the following:
Will your family life change until you buy your next car
Will you be assisting your ageing parents?
Safety
When it comes to buying a car for your family, safety should be the top-most priority. After all, you want to ensure that the vehicle you transport your dear ones in will secure them in case of a mishap. Fortunately, vehicle safety features are getting advanced year by year.
Alongside features like airbags and child-lock seats, additional features like driver monitoring software and self-parking can lessen the risk of mishaps. Therefore, go for cars with up-to-date safety features.
Petrol, Diesel or CNG?
Another significant consideration to be made while purchasing a family car is to pick between the fuel alternatives – Petrol, Diesel and CNG. While all the fuel alternatives have their advantages and disadvantages, it is recommended to go for the diesel or CNG version if you are going to be driving more.
However, you must know that diesel variants are costlier than petrol variants. The CNG version is also cheaper but can take up a lot of boot space and availability of CNG can be an issue. So, choose wisely.
Test Drive Potential Purchases
Buying a dream car is a momentous occasion in every person's life. After all, the car is nothing less than an extension of your home and heart! Therefore, while shopping for a new vehicle, the most significant step is the test drive all the potential purchases. Because only after you get behind the wheels can you experience many things about the car.
While assessing the car through the test drive experience, check the following:
Ergonomics, comfort, and the smoothness of use
Accelerator, steering, brakes, rear visibility, and reverse gear for smoothness and ease of use
Gadgets and safety features
Any unusual sounds
Car Insurance
It is compulsory for vehicle owners to have car insurance as per the Motor Vehicles Act, 1988. Therefore, it is likewise imperative to factor in the insurance cost well in advance as it makes an integral part of the total cost.
These days reputed insurers offer comprehensive car insurance policies online. Such policies offer coverage for any damage to your car, accidental injuries, third-party liability, along with various other benefits.
In addition, these comprehensive car insurance policies offer many add-on coverages like:
Personal accident cover of owner-driver and for passengers
Engine cover
Zero depreciation cover
Roadside assistance cover etc.
Such add-ons provide enhanced protection during various unfortunate occasions.
All in all, having a comprehensive car insurance policy will ensure that you do not just drive your dream car, but also drive away any unexpected losses that come your way!