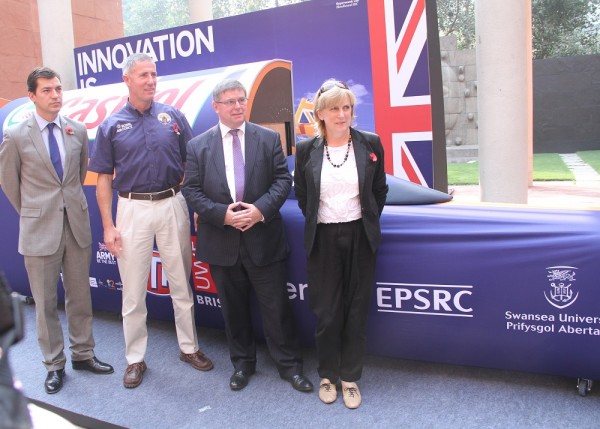 The visionary science & technology project, BLOODHOUND SSC, highlights the importance of Science, Technology, Engineering and Maths (STEM) Education
The BLOODHOUND Show Car display in New Delhi will be followed by the Education UK Exhibition, as part of the 'GREAT Britain' campaign, at  the British Council on 15 and 16 November for students who want to know more about studying and living in the UK
401 part scholarship awards are available this year worth 1.51 million pounds (approx. 151 million rupees) for varied subject areas ranging from Engineering, Law and Business to Art & Design, Biosciences across 57 UK institutions in England, Scotland, Wales and Northern Ireland
As part of the 'GREAT BRITAIN' campaign ("GREAT"), British Council unveiled the 'BLOODHOUND Show Car' in New Delhi, showcasing the UK's world-class engineering and innovation expertise. The Show Car of the famous BLOODHOUND SSC designed to go up to 1,000 mph (just over 1,600 kmph) was showcased at the British Council by Richard Everitt, Director Education, British Council India, Iain Gray, Chief Executive Officer of the UK's innovation agency, Innovate UK and BLOODHOUND SSC Pilot, Wing Commander Andy D. Green.
At full speed, BLOODHOUND SSC can cover a mile in 3.6 seconds. The supersonic car is a mix of car and aircraft technology, with the front half being a carbon fibre monocoque like a racing car and the back half being a metallic framework and panels like an aircraft.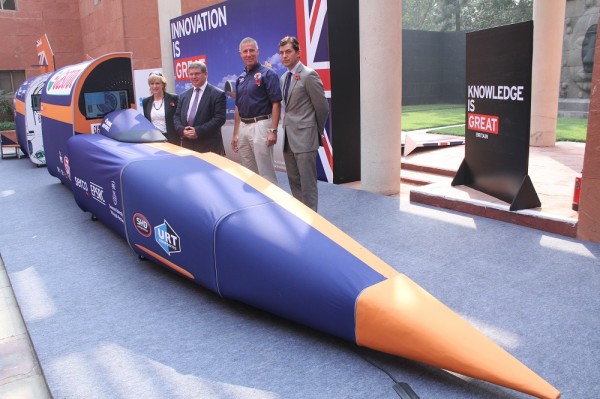 The BLOODHOUND SSC project aims to inspire the young generation to pursue higher education in STEM courses and later careers in those fields. Around 5,600 UK schools and universities are involved in the BLOODHOUND SSC project. Collaboration between British Council, the 'GREAT Britain' campaign and BLOODHOUND SSC is a result of similar values and ideals of representing British innovation and science & technology on a global scale.
The UK and India enjoy a well-established, broad-ranging and expanding partnership on education. With over 400 scholarships this year, and over 750 in the last two years, the GREAT Britain Scholarships – India 2015 is the largest ever scholarships programme offered to Indian students. The scholarships are worth almost 1.5 million pounds (approx. 150 million rupees). As part of the 'GREAT BRITAIN' campaign, British Council will be organising the Education UK Exhibition in New Delhi on 15 and 16 November at the British Council. The purpose of the exhibition will be to provide information on undergraduate, postgraduate or research programmes in the UK and also give information to aspiring students and parents on student life and culture. The exhibition in New Delhi will witness participation from 63 UK universities across England, Scotland, Wales and Northern Ireland.
"We are delighted to bring the BLOODHOUND Super Sonic Car to India, which represents the alignment of UK education, innovation and technology at its very best.   We welcome Indian students in the UK to gain internationally recognised qualifications from our top-ranking global institutions.  For Indian students aspiring to take this opportunity, we are hosting the GREAT UK Education Exhibition in New Delhi this Saturday and Sunday. To support Indian students, we also have over 400 scholarships on offer for almost 60 courses across the UK," Rob Lynes, Director, British Council India.
"The UK enjoys a global reputation for excellence in the field of education, skills, science and innovation.  The UK has a strong tradition in offering world-renowned 'STEM' education. Universities in the UK are committed to delivering excellent research expertise.  The flow of people between academia and industry helps to translate research into application.  And with a supportive business environment, innovative companies can grow and prosper, delivering social and economic benefits.
The UK is the perfect melting pot of cross-discipline capability which students can gain from. For those Indians who aspire for an international study experience and professional development in STEM, the UK promises them an unparalleled environment with excellent teaching and facilities and world-class centres of science and innovation across the country.  BLOODHOUND is an excellent example of some of the exciting things going on in the UK, inspiring the next generation of scientists and engineers" said Iain Gray, Chief Executive Officer, Innovate UK
Speaking at the showcase event in New Delhi today, Andy Green, RAF fighter pilot, World Land Speed Record holder and pilot of BLOODHOUND SSC said, ''Project BLOODHOUND is a thrilling piece of British technology, aiming to raise the World Land Speed Record to over 1600 kph.  I really hope that this 'Engineering Adventure' will inspire Indian students to benefit from the world-class UK courses on offer in science, technology, engineering and mathematics.''
BLOODHOUND SSC has a slender body where the outer body has been made using the Tata Steel and is approximately 14m in length with two front wheels within the body and two rear wheels mounted externally within wheel fairings. It weighs over 7 tonnes and the engines produce more than 135,000 horsepower – more than 6 times the power of all the Formula 1 cars on a starting grid put together!
GREAT Britain Scholarships – India 2015
Student Mobility is critical for cultural relations. The mutual movement of people and ideas between India and the UK helps create the condition for more creativity, innovation and enterprise. The British Council is working with partners across Government in the GREAT Campaign, promoting the UK as a destination to study. The GREAT scholarships would entail:
401 part scholarship awards worth 1.51 million pounds (approx. 151 million rupees) on offer for courses ranging from Engineering, Law and Business to Art & Design and Biosciences
57 UK institutions across England, Scotland Wales and Northern Ireland are participating in this programme
Scholarships are tenable for September 2015 and January 2016 intakes
List of participating universities at the Education UK Exhibition, New Delhi
| | |
| --- | --- |
| Sr. Nos | Name of the Institution |
| 1 | Aberystwyth University |
| 2 | Arts University Bournemouth |
| 3 | University of the Arts London |
| 4 | Aston University, Birmingham |
| 5 | The University of Bath |
| 6 | Birmingham City University |
| 7 | University College Birmingham |
| 8 | The University of Bolton |
| 9 | Bournemouth University |
| 10 | University of Bradford |
| 11 | Brunel University, London |
| 12 | Cardiff University |
| 13 | City University London |
| 14 | University for the Creative Arts |
| 15 | The University of Dundee |
| 16 | University of East London |
| 17 | The University of Edinburgh |
| 18 | University of Essex |
| 19 | University of Exeter |
| 20 | Falmouth University |
| 21 | The Glasgow School of Art and the University of Glasgow |
| 22 | Goldsmiths, University of London |
| 23 | University of Hertfordshire |
| 24 | University of Kent |
| 25 | King's College London |
| 26 | Kingston University London |
| 27 | Lancaster University |
| 28 | Leeds Beckett University |
| 29 | Leeds Trinity University |
| 30 | University of Leeds |
| 31 | University of Lincoln |
| 32 | London Metropolitan University |
| 33 | University College London (UCL) |
| 34 | Loughborough University |
| 35 | Manchester Metropolitan University |
| 36 | The University of Manchester |
| 37 | Middlesex University, London |
| 38 | NCUK |
| 39 | The University of Northampton |
| 40 | Northumbria University |
| 41 | The University of Nottingham |
| 42 | University of Oxford |
| 43 | Plymouth University |
| 44 | University of Portsmouth |
| 45 | Queen Mary University of London |
| 46 | Queen's University Belfast |
| 47 | University of Reading |
| 48 | Regent's University London |
| 49 | University of Roehampton |
| 50 | The Royal Agricultural University |
| 51 | Royal Holloway, University of London |
| 52 | University of Salford |
| 53 | SOAS, University of London |
| 54 | The University of Sheffield |
| 55 | University of Southampton |
| 56 | Staffordshire University |
| 57 | University of Strathclyde, Glasgow |
| 58 | University of Surrey |
| 59 | University of Sussex |
| 60 | University of Warwick |
| 61 | University of Westminster |
| 62 | York St John University |
 Online resources
Education UK website
A comprehensive website aimed solely at the Indian students –with a searchable course database of more than 450,000 courses, information on visa procedures, stories from alumni, scholarship information and lots of advice for potential students and their families –http://www.educationuk.org/india/
For advice about the quality of teaching and research in UK higher education institutions students should consult the following official resources – for subject and institution reviews visit www.unistats.ac.uk and for research ratings visit www.rae.ac.uk
The UK is very competitive — both for tuition fees and living costs — according to a study by the UK Higher Education International Unit published recently. Eight out of 10 higher education students in UK also give their courses top marks, finds a survey published by the Higher Education Funding Council for England in August 2011. You can find out more on www.hefce.ac.uk/
International students with a recognised degree from a UK Institution may also be able to apply for visa to work in the UK as per the announcement on 'Exceptional talent route' and 'New student entrepreneurs' scheme. You can find more on www.gov.uk/browse/working
The 'GREAT Britain' Campaign 
The 'GREAT Britain' campaign ("GREAT") is a strategic international marketing programme designed to promote the UK to business, tourism and student markets worldwide in order to enhance the country's global reputation and deliver long-term economic benefits. GREAT was officially launched in February 2012.
For world class education and training, with more than 30 of the world's top 200 universities, choose the UK
International graduates of British Universities significantly improve their career prospects and earning potential. Study in the UK and enjoy the rewards
For a world class teaching experience, with graduate and post graduate satisfaction at 90%, study in the UK
For the highest number of top MBA courses in Europe and one of the best places to study business, choose the UK
The British Council 
The British Council is recognised across India for its network of 9 libraries and cultural centres. We offer a range of specialised projects in arts, education, exams, English language and society to audiences across India and more than 100,000 members. We also provide access to English language training and learning for both students and teachers, offer UK qualifications in India and enable opportunities to study in the UK.
We also manage prestigious scholarships and training awards, including the Jubilee scholarships, the Commonwealth Scholarship and Fellowship Plan and the Charles Wallace India Trust awards. Our English language centres in Chennai, Delhi and Kolkata provide a range of general and business English classes, specialised skills based programmes and young learner courses. We work with a wide range of Indian partners in cities all over India enabling British and Indian experts to meet and collaborate and to nurture mutually beneficial relationships.
Innovate UK
Innovate UK is the new name for the Technology Strategy Board – the UK's innovation agency. Taking a new idea to market is a challenge. Innovate UK funds, supports and connects innovative businesses through a unique mix of people and programmes to accelerate sustainable economic growth. For further information visit www.innovateuk.org