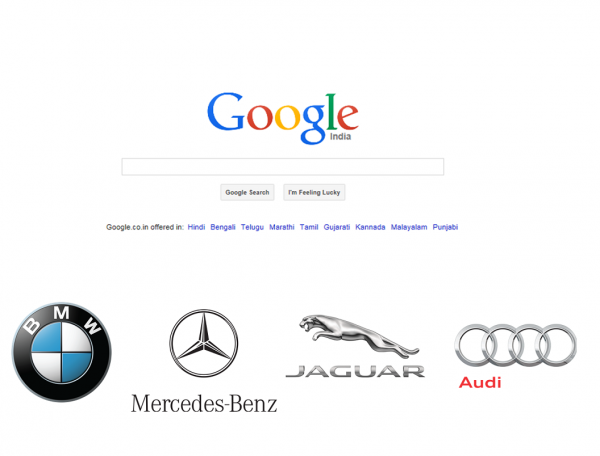 When it comes to buying a luxury sedan, except a niche segment of buyers, for most people in India, it was until recently a toss-up between three of the world's top luxury brands: Mercedes, BMW and Audi offering  the best German technology with fascinating products, exciting brand experience and innovative retail programmes.
There has been a subsequent addition to that list – with the success of the Jaguar-Land Rover brand (now a Tata Motors owned company). With growing section of rich Indians especially from the young generation being targeted by luxury car companies, internet is playing small yet considerate role in decision- making process. Google Search trends present some interesting insights on the level of interest these brands attract among the growing new segment of progressives who love driving their own car and not merely lie to own it.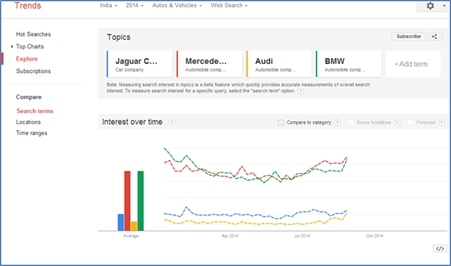 German luxury car brands in India are facing stiff competition from each other as they continue to bite into each other sales with new models and advanced offerings. Mercedes-Benz and BMW both together shared the 'Top spot' as their aggressive online presence attracted a large number of brand and product related queries on Google search.
Searches on Jaguar Cars presented an interesting surprise as it pushed Audi's ranking to the fourth spot on Google search. Audi may well be giving strong competition to its rivals; it remained a distant fourth especially considering the amount of queries posted on Google search by Auto enthusiasts in 2014.
BMW which leads the search charts at the start of the year with searches peaking in its favour has been found losing its momentum as it witnessed the lowest search interest for brand BMW during the month of May.  Mercedes-Benz meanwhile continued to attract large amount of searches during the year and finally surged ahead of its competition keeping a significant edge in search interest over the past couple of months.
Smaller cities and towns are now very much part of the mainstream markets with most number of searches emerging from these places as leading luxury car makers fast-moving to these cities. Thiruvananthapuram, Ludhiana, Vadodara, Ernakulum, and Surat contributed the most number of searches for Mercedes-Benz leaving behind Metro cities like Delhi, Mumbai, Gurgaon and Bangalore.
Ludhiana leads the search interest for BMW among smaller cities alongside cities like Coimbatore, Surat, Pune, Bhubaneswar, and Chandigarh.  Jaguar (now a Tata Motors owned company) attracted significant response online with most searches emerging from Coimbatore, Chinchwad, Chennai, Bangalore, New Delhi and Noida.
Audi struggled to attract search interest from smaller cities with most searches emerging from metros including Bangalore, New Delhi, Chandigarh, Chennai and Mumbai.
According to reports, the Indian luxury car market had sales of more than 32,000 units in the calendar year 2013 and is expected to cross the 50,000 mark in 2014. With big brands looking to target emerging youth with launch of new models, their online presence and popularity is well going to be a key contributor to their larger success story.