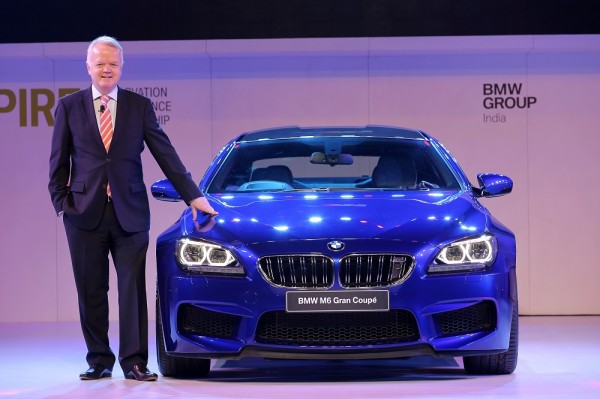 The most powerful M, the all new M6 Gran Coupé made its Indian debut at event held at BMW India's new opened state of the art training centre. The 4 door high performance sports Coupé was unveiled at the 2014 Auto Expo and is now sale across all dealerships in India.
The M6 is a head turner and will make you look at it million times. The car sports adaptive LED lights at the front, large air dams and the M-kidney grille with chrome double slats on which most powerful badge 'M6'is placed. On the side the low roofline gives the car an aerodynamic silhouette profile and the large 20" M-light alloy wheels gives the car an imposing stance. The rear apron is crafted from CFRP which optimizes the under air-flow.
Another striking feature is the CFRP roof which reduces the weight by 25kgs compared to a conventional roof made of glass. Interiors are dominated by black leather and sports a M-Steering wheel with console inclined towards the driver.
The M6 Gran Coupé based on the 6 Series is a lot different machine under the hood. Powered by a 4.4-litre V8 M TwinPower Turbo 8-cylinder petrol engine, the car sprints from 0-100 in just 4.2 seconds and has a top speed of 250km/h (We are sure the speed is limited). The engine develops an enormous power of 560 hp (412 kw) and a impressive torque of 680 Nm with the help of two TwinScroll turbochargers with Valvetronic technology, Double-VANOS and High Precision Injection system.
The 7 speed M Double Clutch transmission makes sure there is no loss of power during shifts and Drivelogic ensures smooth drive in stop-and-go-traffic by using a Low Speed Assistance system coupled with a crawl function, Launch Control system and an auto P function. Paddle shifters on the steering wheel help to engage gears without lifting your foot from the accelerator and hands from the wheel. The M Drive buttons on the wheel help to select either a sporty or a comfortable drive via the pre-programmed configurations.
To keep the occupants safe, BMW has equipped the M6 Gran Coupé with a number of safety features such as: six air bags, Active M Differential which offers outstanding agility and enhanced traction, M Dynamic Damper Control with M Dynamic mode which automatically adjusts the chassis depending on the road conditions, M Compound Brakes which help you brake faster and drastically decreases the stopping distance and Active Protection which helps the car react to dangers faster and Attention Assist monitors driving behavior.
Launched as a CBU, the flagship of the M series of BMW cars, the M6 Gran Coupé combines both high performance and practicality and is priced at Rs. 17,540,000.