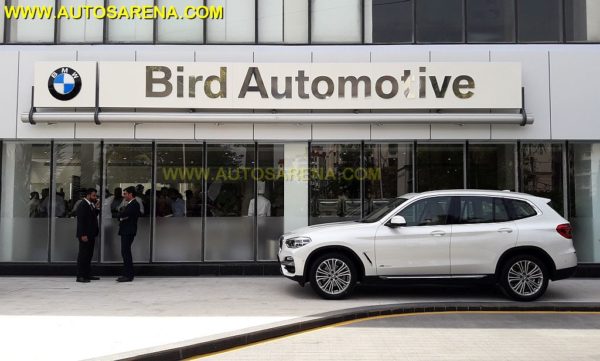 BMW India inaugurated a new facility of Bird Automotive in Gurgoan. With the addition of this new facility, Bird Automotive now has three BMW dealership facilities in Gurgaon and one MINI facility in Delhi. Headed by Mr.Gaurav Bhatia, the new facility is located at Address One (BAANI), 1 Golf Course Road, Sector 56, Gurgaon.
This 4622 sq.ft. showroom can display up to 7 cars based upon the signature 'Urban Street Display' concept and sales lounges close to the display area. The dealership will also display original BMW Lifestyle Collection which includes a wide range of new clothing, accessories and luggage with sporty elegance and distinctive styling. Customers can also select BMW M Performance Accessories to enhance the motorsports DNA of theirs BMW cars.
Mr. Vikram Pawah, President, BMW Group India said, "BMW is committed to providing 'Sheer Driving Pleasure' with its aspirational products, immersive brand experience and unrivalled aftersales service. The launch of Bird Automotive's new facility further strengthens our commitment towards our discerning customers in one of the most promising markets in India. It will play an important role in BMW's growing market offensive. We will continue to set new standards through our absolute commitment to serve our customers with passion and excellence."
Bird Automotive has employed a strong workforce of over 250 employees across all its facilities. The team of service engineers has also been trained at BMW's training centers in Gurgaon, Singapore, Malaysia and Germany.
Mr. Gaurav Bhatia, Dealer Principal, Bird Automotive said, "For the last ten years, Bird Automotive has been constantly setting benchmarks in luxury automotive retail in the millennium city of Gurgaon. The perfect mix of world-class facilities, dynamic BMW cars, extremely high standards of service, coupled with our sound experience allows us to anticipate and cater to every demand of our customers. We are delighted to present our third facility in Gurgaon and are confident that this expanding footprint will lead to further business growth for us."
BMW India is the pioneer in bringing luxurious dealerships to India. BMW India has set a decisive course by setting up BMW dealerships of international standards across the country. With the addition of this new facility, BMW Group India now has 44 sales outlets in the Indian market.