BMW Group launches the BMW Facility NEXT concept in India.
BMW India announced the opening of Krishna Automobiles, its first integrated dealership facility for BMW, MINI and BMW Motorrad in Chandigarh. Located at 125 Industrial Area, Phase 1, Chandigarh, this 50,500 sq. ft. ultra-modern dealership facility is designed to seamlessly present BMW, MINI and BMW Motorrad at a single location.
The BMW Facility NEXT  is the first integrated dealership with all three brands – BMW, MINI and BMW Motorrad, under one roof.
The dealership is headed by Mr. Satchit Passi, Dealer Principal, Krishna Automobiles. Krishna Automobiles represents BMW India with another sales and service outlet in Ludhiana.
BMW Facility NEXT is an integrated dealership facility concept which presents BMW, MINI and BMW Motorrad to customers at a single location.
Modern architecture, appealing design concepts and engaging new-age technologies convey heightened emotional connect with all three brands in their distinct attributes throughout the showroom.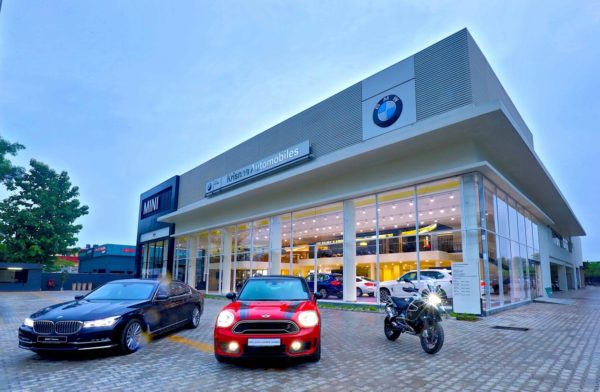 This new BMW Facility NEXT concept will help the 3 brands to offer the same service and standards to all customers under one roof and also will help the dealer principle save on real estate, Human resource and management.
The BMW showroom has a seven-car display and a four-car display zone for BMW Premium Selection cars.
The MINI showroom features a three-car display along with the display of MINI Lifestyle and Accessories. The BMW Motorrad area will showcase 12 motorcycles along with exciting lifestyle merchandise and accessories.
The dealership also offers attractive financial solutions through BMW Financial Services India, MINI Financial Services India and BMW Motorrad Financial Services India. Customers can avail attractive finance and insurance options for the products of their choice.
Krishna Automobiles aftersales facility has allocated dedicated service bays for BMW, MINI and BMW Motorrad vehicles to deliver international standards of service ensuring that customers receive best-in-class post sales ownership experience.
Address: BMW Krishna Automobiles, 125 Industrial Area, Phase I, Chandigarh 160 002
Email: info@bmw-krishnaautomobiles.in
Mr. Vikram Pawah, Chairman, BMW Group India said,
"The BMW Facility NEXT Concept is our view of how retail will shape and play a crucial role in the brand's interaction with the customers. With this concept, we have integrated all three brands – BMW, MINI and BMW Motorrad under one roof, providing a full spectrum of our products and services. We are delighted to bring the first BMW Facility NEXT Concept showroom in the country to Chandigarh. This is an important market for us and we have experienced a strong pull for all three brands – BMW, MINI and BMW Motorrad here. Our long-standing relationship with Krishna Automobiles is now strengthened further as we also appoint them as our dealer partner for MINI and BMW Motorrad in one of the most promising markets in India."
Mr. Sachit Passi, Dealer Principal, Krishna Automobiles said,
"Krishna Automobiles is proud to present India's first BMW Facility NEXT concept in Chandigarh. The culmination of BMW, MINI and BMW Motorrad in a unique format offers an unrivalled dealership experience. Krishna Automobiles will be instrumental in offering the renowned ownership and aftersales experience to our customers. We will further tap the growing luxury car market potential of the city and serve our esteemed clientele with greater passion."