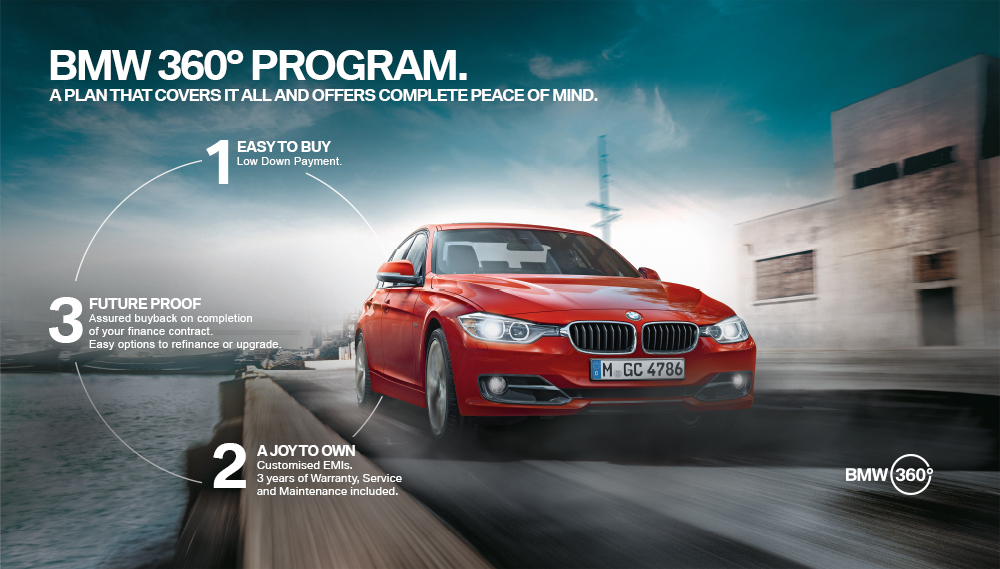 The BMW 3 Series, 5 Series and the X3 available now with 360 degree program in India. The BMW 360 degree program ensures complete Peace of mind with assured Buy Back Value.
So what exactly is BMW 360º Program
The BMW 360º Program enables prospects to select the model of their choice, the tenure of financial contract and the per annum mileage criterion.
Basis this, an assured buyback ensuring low down payment, affordable monthly instalments, complimentary service and maintenance for 3 years can be availed. This program provides the freedom to upgrade, retain or return the vehicle at the end of the tenure.
Low Down Payment – The BMW 360º program design allows the customer to pay as low as 5% as initial down payment.
Peace of Mind – It  is in built with complimentary maintenance package which further lowers down the cost of ownership.
Guaranteed Buyback Value. – The BMW 360º program provides guaranteed assurance of buying back the car at pre-defined value at the end of tenure.
Flexibility – With the BMW 360º program, the customer can decide whether to trade in, keep, refinance or return the vehicle at the end of the contract.
At the end of your BMW 360º finance contract you can choose one of the four following options. But you don't have to decide now – you can select the best option for yourself at the end of your term. –
Trade in your BMW  – Return your vehicle to your BMW Dealer as a trade-in. If the trade-in valuation is higher than the Assured Buyback the balance is yours to use as equity towards your new BMW.
Refinance your BMW – Simply refinance the Assured Buyback for another finance contract term and enjoy your vehicle for longer. – Keeping your BMW If you choose to take full ownership of vehicle at the end of your finance contract, you can simply pay off the outstanding amount and continue to enjoy your BMW.
Return your BMW – To complete your 360º experience, you only need to return your vehicle to your BMW Dealer. Provided the vehicle meets fair wear and tear guidelines and the kilometre allowance has been met, you have no further liability
The BMW 360º Program is exclusively available at the select BMW dealerships across the country namely- Delhi (Deutsche Motoren), Mumbai (Infinity Cars and Navnit Motors), Chennai (KUN Exclusive), Hyderabad (KUN Exclusive), Bangalore (Navnit Motors), Gurgaon (Bird Automotive), Ahmedabad (Parsoli Motors), Jaipur (Sanghi Classic), Raipur ( Munich Motors) and Nagpur ( Munich Motors).
BMW India has 39 sales outlets in the Indian market and plan to add more outlets in the coming months.