It was hard to turn down an invitation to visit Mahindra's Chakan plant on a hot sunny day.  So even though it was at a short notice, i packed my bag with essentials like a camera, noting pad, recorder etc and rushed to the state-of-the-art gigantic plant where the new Blazo series of smart trucks are being manufactured.  And thanks to BlogAdda for facilitating a guided tour of Mahindra's hi-tech manufacturing plant.
Incorporated in the year 1945 to trade in steel, M&M today is a USD 16.5 billion multinational business group with operations in over 100 countries and business interests in Aerospace, Automobiles, Defence, Energy, Farm Equipment, Logistics, Hospitality, Real Estate, Retail, Insurance and Finance. It also has the special distinction of being the only automaker in India to have  a strong presence across categories like Two wheelers, Four wheelers, Passenger Cars, Utility Vehicles, Commercial Vehicles, Farm Equipment etc.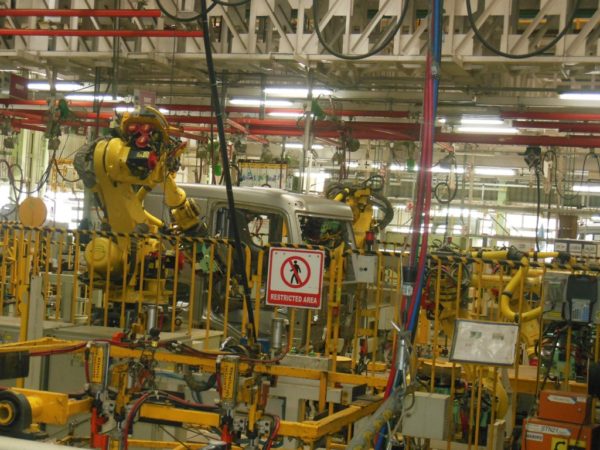 Mahindra's Chakan plant is spread over an area of 700 acres and is the production hub for many of its products, including the Blazo. The plant uses the latest equipment and technologies available for manufacturing world class products. Use of advanced robotics reduces the need of human intervention in some core manufacturing processes. It also ensures precision, reduces errors, saves time and scores high on safety too. Another note worthy point of the plant was the effective use of natural daylight thereby saving hugely on electricity bills. It also has a water treatment plant where water is recycled and used in the paint process. Dependence on natural daylight, recycling of water and effective use of solar power makes it one of the most eco friendly automotive plants in India.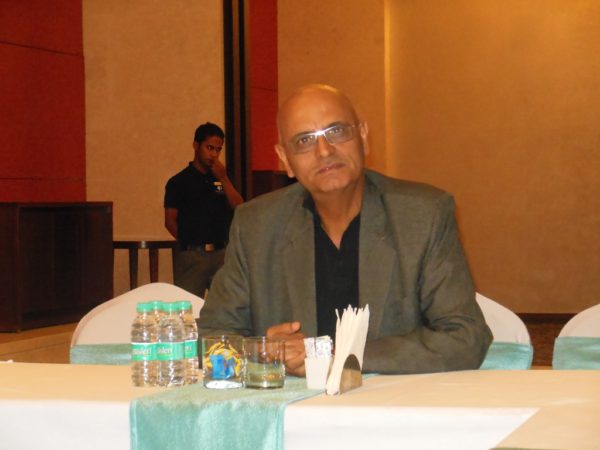 We were also privileged to interact with Mr. Nalin Mehta, MD & CEO, M&M Truck and Bus Division who shared many interesting insights into transport business in India, the logistics part of the business and the importance of Smart Trucking in shaping the transport sector in near future. While speaking to us Mr.Mehta said, "We have developed the new Blazo range over the last 30 months with large investment costs. Mahindra guarantees that if a customer is unhappy with the fuel efficiency of the truck, he can return it back to us. This shows our confidence in our new range and it truly will be a game-changing product."  He also added that M&M sees a huge potential in the market and will continuously invest in taking the truck and bus division to great heights by being a full range player in the market.
While road transport accounts for more than 50% of cargo movement in our country, trucking is still at a nascent stage when compared to developed countries where trucking is not only big business but also a profession of choice for many. Mahindra was quick to sense the tremendous potential from a paradigm shift in the way goods are being transported across the country. In a space that has so far been dominated by Tata and Ashok Leyland, Mahindra seized the early mover advantage by launching the Blazo range of smart trucks, which range from 25 tonne to 49 tonne capacity. The range aims to plug the deficiencies of the current truck business in India by manufacturing trucks that are high on safety, build quality, cabin comfort, dependability and durability besides being low on fuel consumption and maintenance.
So, what's exactly Smart about the Blazo? The answer is – Almost Everything!
# The Blazo is powered by Mahindra's mPOWER FuelSmart engine with 7.2 L displacement which delivers uncompromising power and performance.
# FuelSmart switches on the dashboard lets the driver choose between superior mileage and unmatched power depending upon the demands of the business. The driver has to simply turn on the HEAVY mode while carrying full loads, later switch on to LIGHT mode when running without load or turn on the TURBO mode while driving up steep inclines with full loads.
# The cabin of the Blazo has been smartly designed to provide maximum comfort and safety to occupants, especially during long hauls. The cabin comes equipped with Tilt & Telescopic steering, comfortable full sized sleeping berths, factory fitted fans, lockable storage compartments, ergonomically designed driver seat with 3-way adjustment along with a provision for factory fitted music system and air-conditioner.
# Smart Truck itself is a Smart Concept – Gone are the days of 'One Size Fits All'. Mahindra now offers a smart truck specifically designed for every transport application. So whether you are in the business of transporting cement, food grains, frozen food, stone blocks, etc., Mahindra has a specific truck suited for your business.
# The concept of Mileage Guarantee and Service Promise make the purchase deal a very Smart Proposition for the customer. Mahindra is so confident about the FuelSmart technology, that it announced a mileage guarantee for Blazo trucks where-in if a customer is not happy with the mileage of the truck, he may choose to return the truck to Mahindra and take his money back.
Secondly, in the unlikely event of a breakdown, Mahindra promises to get the truck repaired within 48 hours failing which they will pay the customer Rs.1000 per day till the truck is back on the road.
Other noteworthy features of the Blazo range are as follows.
# Driver Information System (DIS), similar to that in passenger cars will convey information like Engine RPM, Temperature, Fuel level, Tyre pressure, Trip meters, Battery voltage, Service reminder, etc.
# Large windshield with multiple rear view mirrors for enhanced visibility.
# Anti-Lock braking system (ABS) ensures greater braking control at high speeds.
# Tag Lift Axle reduces wear and tear of tyres.
# Refined clutch system with heavy duty gearbox.
# Bogie Suspension that helps to negotiate diverse load and terrain conditions.
# Stronger chassis frame for all-round ruggedness
# Fuel tank capacity upto 350 litres.
# Longer oil change intervals to ensure greater savings
# 24×7 multilingual Call Centre with on-road assistance.
# Best-in-Class Warranty of 5 Years or 5 Lac Kms.
# Cost effective AMC (Annual Maintenance Contract)
# Over 70 dealerships nationwide.
# 104 Authorised Service Centres (ASC), 2700 Roadside Assistance Points (RSA) and over 1800 Spares Dealers.
Check the complete BLAZO range below
# Blazo 25
# Blazo 25 Tipper
# Blazo 31
# Blazo 31 (8×4 Tipper)* Coming soon
# Blazo 35
# Blazo 37
# Blazo 37 Cowl
# Blazo 40
# Blazo 40 Tip Trailer
# Blazo 49
I'm blogging about my exclusive experience at the Mahindra Blazo Smart Truck manufacturing unit with BlogAdda.