Bajaj still awaits clearance for the sales of its Quadricycle Qute in India.
Two wheeler major Bajaj introduced the Qute globally but still had not been able allowed to launch it in the India market which is a four-wheeler, yet not a car and classifies under the quadracycle segment.
Accepted worldwide, Qute now needs your support to be on Indian roads acoording to Bajaj who have launched a campaign #FreeTheQute. The company has launched the campaign online where it has made an appeal to people of India to free the vehicle and is asking for support via social media.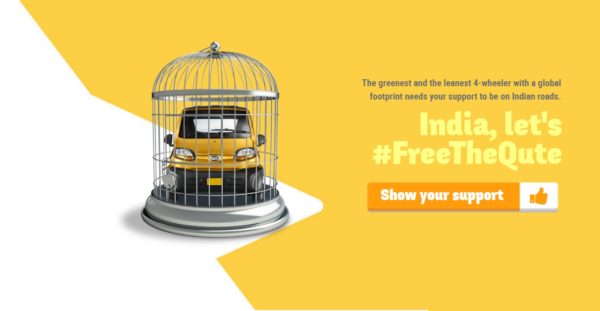 Several public interest litigation's against the launch has prevented Bajaj from launching the Qute in India.
The company plans to appeal to the government for allowing the Qute to be launched in the Indian market with the help of this campaign which shows the vehicle in a cage and is waiting to get freedom.
The Qute is compact, lightweight, and has a carbon footprint that is 37% lesser than the smallest car available.  The vehicle meets the European Standards and Guidelines of Quadricycle for quality and design. Its high-end technology equips it to run at a restricted speed of 70kmph, while utilising fuel as little as 1 litre for 36 km.
Powered by a 216.6cc engine it is also available in CNG and LPG fuel options with peak power of 13.2 PS and max speed of 70 Kmph.
The Qute when launched could replace the rickshaws and will be run as a commercial passenger carrier for intra-city transport.
Click here to free the Qute – http://freethequte.in/