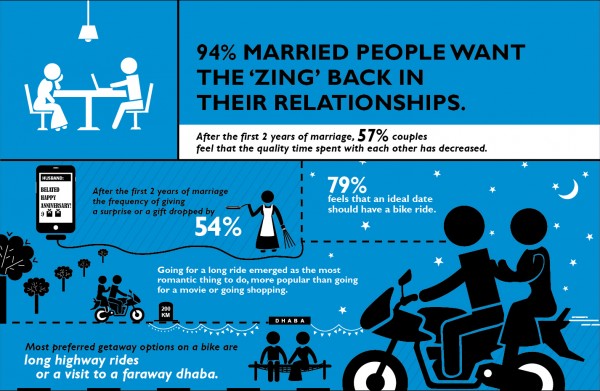 "Bajaj Discover – IMRB Relationship Survey" reveals; married Indian couples find bike rides more romantic than outdoor dining or going for movies 
93% Males & 94% Females respondents want to bring back the lost excitement in their marriages
57% couples feel that the quality time spent with each other has decreased over time
The survey also highlights a 45% decrease in romantic long rides post marriage
50% couples agreed that the frequency of giving a surprise/ gift to the partners has decreased
Bajaj Discover and IMRB conducted a unique "Relationship Survey", revealing some interesting findings on relationships between married Indian couples and their bike usage habits.
It is no mystery that the excitement between married couples reduces a few years into marriage. This is more often an outcome of hectic work schedules, family responsibilities and daily chores. Before one notices, the 'excitement' in the marriage is almost lost. On the occasion of World Marriage Day, which falls on 8th February this year, Bajaj Discover is releasing findings of a survey titled "Bajaj Discover – IMRB Relationship Survey". The survey highlights that 94% married people want to bring the zing back into their relationships. The sentiment was echoed in all regions across India, with 97% in East, followed by 94% in the North, 92% in West and 89% in the South.
Another interesting revelation was about Indian couples finding a long ride on a bike more romantic than watching movies, going for dinner or spending quality time at home. As per the survey, couples tend to feel close to their partners while riding a bike. However it is also important to note that there seems to be a 45% decrease in romantic bike rides post marriage.
Mr. Sumeet Narang, VP, Marketing Bajaj Auto Ltd, said, ""The 'Married youth' segment is the biggest target group for the Bajaj Discover brand. We had conducted a first-of-its-kind, in-depth survey across India to understand relationships between married couple pre and post marriage, as well as bike usage habits. The survey revealed very interesting findings on how the zing in relationships goes missing a few years into marriage. It also throws light on bike usage habits and the role it plays in their lives and relationships."
Renowned Marriage Counsellor Dr. Nisha Khanna said, "The first few months of marriage is the time when couples keep the romance at the forefront. But as time goes by, and other important things take center stage, romance takes the back seat. The findings of the Bajaj Discover –IMRB Relationship survey research is an attestation to that fact."
The survey findings unequivocally reiterate the fact that married couples do lose the zing in their relationships a few years into marriage. It is an eye opener to introspect on what we can do better to improve the quality of our lives.
The survey was conducted with a sample size of 1,000 respondents, equally split between married men and women across cities including Mumbai, Pune, Ahmedabad, Indore, Delhi, Chandigarh, Lucknow, Bangalore, Chennai, Kochi, Hyderabad, Kolkata and Bhubaneswar. 
On the occasion of World Marriage Day, the brand has also launched a new initiative called Zing Zong Ride, wherein 8 selected couples will ride a total of 3000 kms and make a heart shape on the map of India. Raghu Ram, youth icon and founder of Monozygotic Solutions, says "What better way to reignite the romance than to hit the road on a bike? Riding is all about being together, enjoying the journey, feeling the wind in your hair. All the best guys, go and 're-Discover' your Zing Zong!"