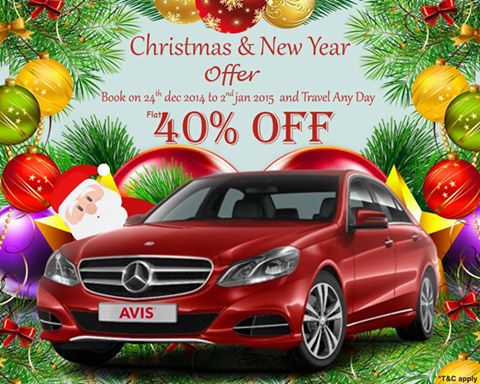 Avis India Announces "Say No to Drinking and Driving" Campaign
Offers 40% Discount on online Booking  Till 2nd January 2015
Avis India, the leading international premium car rental, leasing and fleet management company in India has announced "Say No to Drinking and Driving" Campaign. The company will offer a Flat 40% discount on online bookings for both its Chauffer driven and self-drive cars.
Initiated during the Christmas evening, the offer will be valid for 24th December 2014, & 25th December 2014 & 31st December 2014 to 2nd January 2015. The offer will be valid throughout Avis India's offices in 19 cities across the country.
Mr. Sunil Gupta, CEO of Avis India said, "We hope our offer will help in contributing to the governments safe driving initiative for a joyous Christmas & New Year"
Avis in India has many firsts to its credit and its emphasis on blending global systems with an understanding of local needs has enabled it to achieve market leadership in India. Avis in India is present at Agra, Ahmedabad, Bangalore, Bhubaneshwar, Chandigarh, Chennai, Cochin, New Delhi, Gurgaon, Hyderabad, Jaipur, Kolkata, Mumbai, NOIDA, Pune, Rishikesh, Shimla, Udaipur, and Vadodara.
About Avis
Avis Car Rental operates one of the world's best-known car rental brands with approximately 5,450 locations in more than 165 countries. Avis has a long history of innovation in the car rental industry and is one of the world's top brands for customer loyalty. Avis is owned by Avis Budget Group, Inc. (NASDAQ: CAR), which operates and licenses the brand throughout the world. For more information visit www.avis.com.
About Avis India
India's leading car rental, leasing and fleet management provider, Avis India, is a joint venture between Avis Budget Group, Inc. and The Oberoi Group. Avis India has a fleet of more than 2500 premium cars across the country, with a network extending across 48 conveniently-located rental stations in 19 cities. For further information, please visit www.avis.co.in.
The Oberoi Group operates 28 hotels and three cruisers in five countries under the luxury 'Oberoi' and five-star 'Trident' brands. For more information on The Oberoi Group, please visit www.oberoihotels.com.