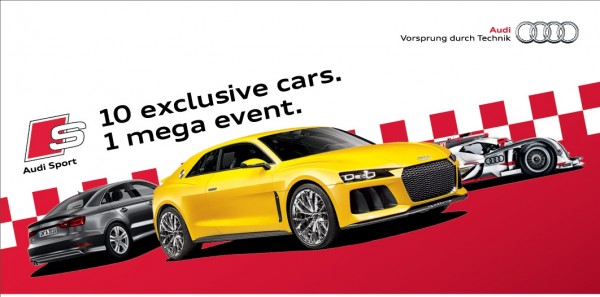 10 exclusive cars. 1 mega event. Say Audi India. The German luxury car maker has announced their plans for the Auto Expo. From the mighty RS 7 to the R8 Spyder, the quattro Concept car to the legendary R18 e-tron quattro will be showcased at the 2014 Auto Expo. Audi will also unveil the A3 sedan details of which will be announced at the show.
The Sport Quattro Concept was first unveiled the Frankfurt Motor Show in September last year, which is a successor to the legendary Audi Quattro. The concept car features a hybrid drivetrain pairing a 4.0-liter V8 twin-turbo engine and a disc-shaped electric motor to a new 8-speed tiptronic gearbox which produces 700 hp of raw power and 800 Nm of torque. 0-100 km/h in just 3.7 seconds and a top speed of 305 km/h enough to offer you a roller coaster ride.
The Sport Quattro can run on pure electricity for up to 50 km offering a high efficiency of 40kn/l.
Other attractions at the Auto Expo is the R18 e-tron LeMans race car, recently launched RS 7 Sportback and special editions of the Q3, Q5 and Q7. Stay tuned for more details on the A3 sedan live from auto expo.