Audi has unveiled its latest offering, the A3 based cabriolet convertible in Chennai this evening.
A3 Cabriolet was unveiled by racing car driver  Mr Aditya Patel, accompanied by Mr Twinkle Krishna, VP, Audi Chennai and Mr Joe King, Head, Audi India.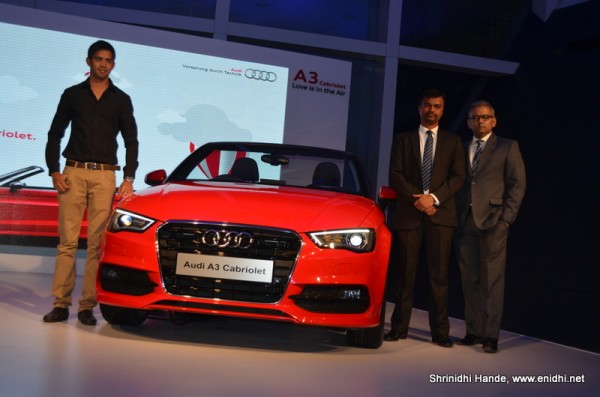 Ex showroom price of A3 Cabriolet Chennai is Rs 45,83,000, On road price is expected to be around 53 lakhs. A3 Cabriolet is powered by a 1.8 litre TFSI petrol engine churning out 180hp and reportedly has a top speed of 242kmph & 0-100 in 7.8 seconds.
Audi A3 Cabriolet's hood closes in 18 seconds and can be deployed on the move (in speeds upto 50kmph)
A3 cabriolet doesn't really have any competition as such, since the other convertible- Mini is too small.
Audi has maintained its lead as No. 1 luxury car brand in India, despite stiff competition from rivals and not having cheap offerings like A class or 1 series to win numbers game. With the CBU import Cabriolet, Audi hopes to maintain its leadership position and reach out to larger customer base.