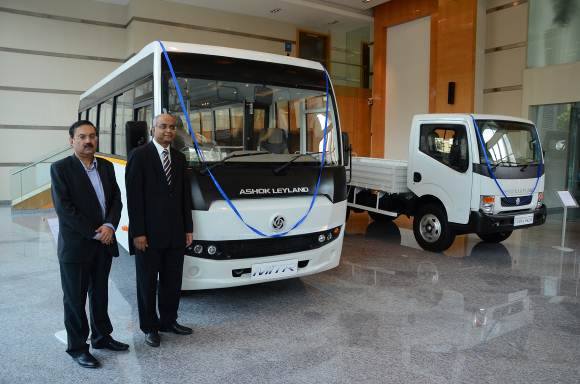 India's second largest commercial vehicle maker Ashok Leyland, launched two new Light Commercial Vehicles (LCV) – PARTNER truck, India's first air-conditioned LCV goods vehicle and MiTR bus, an LCV bus with best-in-class comfort. Ashok Leyland is slowly making headway in the Light Commercial segment. The company introduced the Dost LCV in 2011 followed by the Stile MPV in 2013. With the PARTNER & MiTR bus, Ashok Leyland is looking for a larger pie of the LCV& MHCV segment.
The PARTNER LCV is a global product and is the latest offering from Europe and Japan. With car like spacious and comfortable cabin, the LCV will help to make the driver's job less stressful and enjoyable. With a Gross Vehicle Weight (GVW) capacity of 6.6T, the PARTNER will address various applications like parcel goods, durables, perishables and FMCG products among others.
The MiTR is a 26+1+1 seater bus which is based on the, ergonomically designed to offer superior comfort and utility to passengers and drivers. Both the PARTNER and MiTR are powered by ZD30 Common Rail diesel and based on the Nissan F24 platform. Both products host features like power steering with tilt-able adjustment and cable-operated gear shifter for superior driver comfort.
Ashok Leyland is offering an engine and transmission warranty of 3 years/3 lac kms and a standard warranty of 1 year/unlimited kms on the overall vehicle. The PARTNER and MiTR will be made available to customers through over 330 outlets across the country.
The new products from Ashok Leyland will compete mainly with the Tata 407 and Eicher 10.59 in the LCV truck segment, and the Tata Starbus and Eicher Starline bus range.
Prices (Ex-showroom, Chennai):
Partner 2850 wheel-base :  LS (with power steering) is Rs. 8.89 lacs , LX (with power steering and HVAC system) is Rs 9.19 lakhs
Partner 3350 wheel-base :  LS (with power steering) is Rs. 9.19lacs , LX (with power steering and HVAC system) is Rs 9.49 lakhs
MiTR standard bus (26+1+1 seater) with power steering is Rs. 12.49 lakhs
Earlier this month, Ashok Leyland unveiled the 'CAPTAIN' truck series.