The Five Door Audi A5 Sport-back was being extensively tested in Mumbai, likely debut in Q4 (Oct – Nov)
Earlier this month when Audi introduced the new Audi A5 coupe it was only a matter of time before the Audi A5 sport-back version came out. This happens to be the second set of spied images that have surfaced of the vehicle. The images were obtained from Navi-Mumbai around last week.
The second generation Audi A5 sport-back is based on MLB-Evo platform. This design language has already been implemented in the recently launched Audi A5 coupe which garnered good response. The newer platform also means a  reduction of up-to 50kg in weight compared to the previous generation.
The styling and the exterior of the vehicle is largely borrowed from the previous generation. This move comes from the previous generation aesthetics of the vehicle being well received by the Indian customers.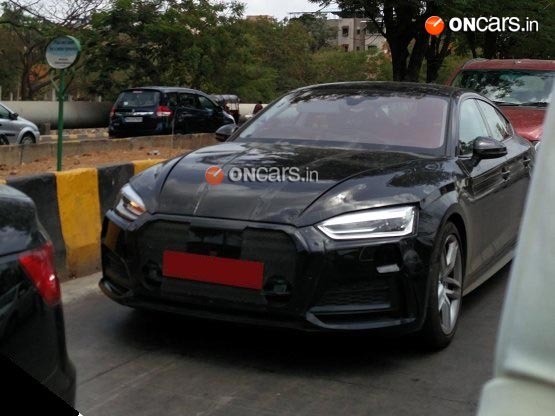 The engine line-up powering this vehicle too will largely remain the same. This means almost close to 5 engine options to choose from ranging from 1.8 lit to 3.2 lit . Audi though has garnered more number of bookings on the 2.0 lit TDI on the Audi A5  coupe. It is highly likely that this trend will continue because of the balance of the Engine.
The transmission options too include all the traditional Audi options which include 6-speed manual, 7-speed S-tronic and 8-speed triptronic transmission.  This coupled with the patented Audi Quatrro system will surely give the A5 a class leading performance.
The previous generation Audi A5 sport-back was aggressively priced and so was the recently launched Audi A5 coupe. It will be interesting to see when this vehicle rolls out in the later half of this year as to how much value does Audi attach to this vehicle.