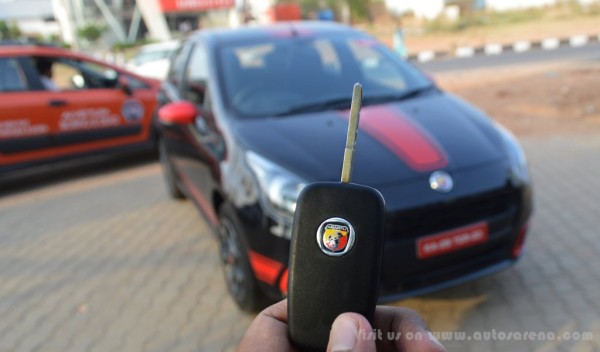 Many must have experienced how it feels when the aeroplanes take off!! If not you can experience this on road. Today's car we drove offers you a similar experience.
In our part of the world we need to combine both 'Budget' and 'Performance'. Either family disagrees or friends pull your leg. Fuel-efficient! Well we should not talk on these lines but its performance.
Let us take this opportunity to speak about a true HOT HATCH. Well you could probably get an experience at 12 lakhs on road thanks to the New FIAT Punto Abarth which will make you experience the adrenaline rush even in a small round trip.
This is not the first time FIAT has worked on bigger engines, PALIO had 1.6 while UNO had 1.9. But they all were not performance oriented, the likes of UNO which had 1.9 lt engine could produce only 60 Hp and a whooping 15ish seconds for 0-100kmph. It has been a transformation from tortoise to rabbit in FIAT cars. They are now reliable, quick and a whole lot of entertainment!!
As per papers the car is real quick, refined and the most powerful HOT HATCH available in India and we don't think there are any competitors in near future for Punto Abarth. If VW polo GT TSI is on your mind, it is no match for this very Italian machine (at least in terms of pricing).
EXTERIOR
Despite the fact that the configuration stays to a great extent unaltered from the Punto with Fiat logos, the uncommon paintjob – tastefully decorated with orange decals – gives this Italian excellence its own particular character.
The renowned Abarth Scoprion logo on the hood gives you an indication of something capable hiding underneath. The Abarth Designed 16-inch wheels look aggressive, adds to the lively looks.
INTERIOR
Interiors remain unchanged except the sporty pedals which are eye catchy every second. One would blindly say it's just another Punto by looks but not by the feel of driving. Well apart from the sporty pedals there is more of chrome in the car from grill to door handle to bumpers which most of the Indian car population loves to have. The colours from the logo are furnished in the instrument cluster as well, else it is an unchanged Punto is what we felt.
Rear boot has average space to fit in luggage and any sports equipment's, as in numbers it is 280lts. While the rear leg room has standard space with decent room for 2 adults. Once the driver stretches back the seat, people at rear end will find it difficult to position themselves.
DRIVE & PERFORMANCE
Now the heart which makes most of the talk in this car has to be given a special preference, it is one of the top talked about hot hatchbacks in India. The Turbo-Charged T-Jet engine from Linea also powers this very machine whose numbers are 1386cc at displacement and tuned the engine to chuck out more power ie 145 Bhp and 211 Nm of torque. These numbers always would like to temp the owner to put down the pedals and have some fun.
The power is available right from 2000 rpm and its quite interesting to have fun from such low rpm, supporting the power steering gives you confidence to change the direction. Giving so much about the numbers here one would expect the exhaust note to be a blast since you start the vehicle!!, but rather you'll be welcomed by a quiet, peaceful refined engine.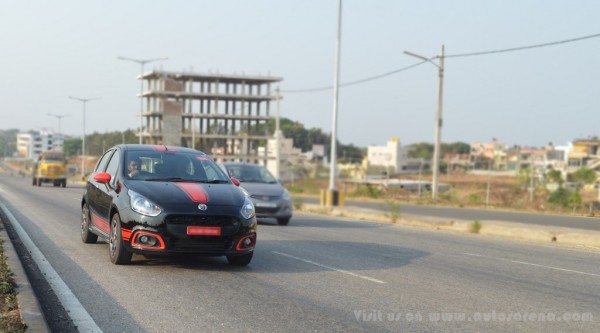 Once the vehicle was taken out for the drive on the outer ring road which mostly had lesser traffic that day, Punto still sounded silent yet the power was felt every second. The very talk among my friends about the Turbo Lag was true yet not so much noticeable @ 2000rpm, but once running ahead of 2000rpm it was a different story all together as if we were in fast forward part of the video. These numbers speak a lot which is good for a straight but the real world isn't really expecting a drag race car, it's always fun to be good at corners. All the way running and running ahead it does feel good at corners. @110kmph we were taken back at a corner such is the road grip of 16″alloy wheel which maintains all the plays of Abarth Punto.
At time when you shift gears you might go so much ahead of your friends normal hatchback so the you need to shift down again to catch them. At such situation again we felt that the need of the exhaust note was very much needed, yet it sounded like another normal petrol car.
** As per the showroom people Punto Abarth might get an exhaust kit in coming days.
SAFETY FEATURES
What comes for safety at 4 wheels are all wheel disc, ABS and EBD which are standard and dual air bags are offered. The springs are stiffer which makes the car more comfortable either on straight or bumpy roads. The ground clearance is 155mm which is a drop of 30mm from the usual Punto hatch, yet high enough for a safe underbelly.
FUEL TANK CAPACITY
The Punto Abarth has large fuel tank of 45 litres and delivers 12-14 kmpl on average driving conditions while you need to keep an eye on the fuel meter if you have plans of taking car to its limits. Having 145 horses it can be driven easily even in city roads too. As per ARAI the car delivers 16.3kmpl which one might get when shifting under 2500 rpm.
COLOUR OPTIONS
Color options are limited to 2 distinct shades – Hip Hop Black or Pearl White colors.
VERDICT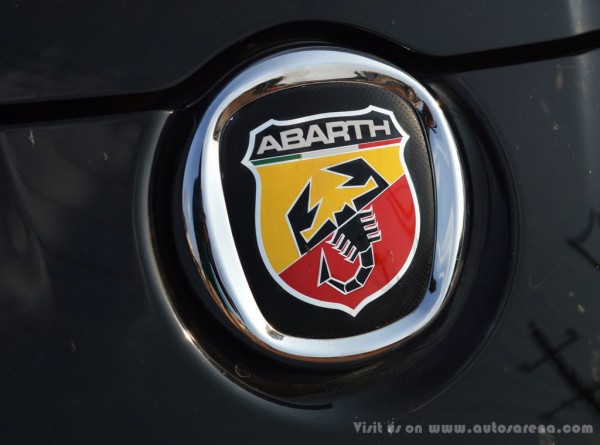 Without the Abarth Badge it is just another Punto or a hatchback which can take you to relatives, carry luggage to destinations. With the badge ON, it is the powerful hot Hatch in the country also the most affordable. It takes you by surprise with the Price tag of Rs. 9.95 lakhs ex-showroom and not to forget the 145 horses under the hood.
Overall it is quite a decent package that any motoring enthusiast could fall in love when the lights turn green.
Specifications:
| | |
| --- | --- |
| Engine | 1386cc, In line 4 cylinder |
| Power | 145 BHp @5500rpm |
| Torque | 211 Nm @2000-4000rpm |
| Fuel efficiency | 12-14 kmpl |
| Transmission | 5 speed manual |
| Length | 3989mm |
| Wheelbase | 2510 mm |
| Ground clearance | 155mm |
| Wheel | 16″alloy |
| Brakes | Front and Rear Disc with ABS & EBD |
Thanks to URS KAR, located in Hunsur main road, Mysuru for providing us the vehicle for test drive. Other products of FIAT are doing decent numbers in the town and we hope Abarth catches more motoring enthusiasts in the cultural capital.
Picture credits: Shreyas S Krishnan
Driving experience shared by: Rakshit Shastry & Shreesha Ramaswamy
Abarth Punto image gallery