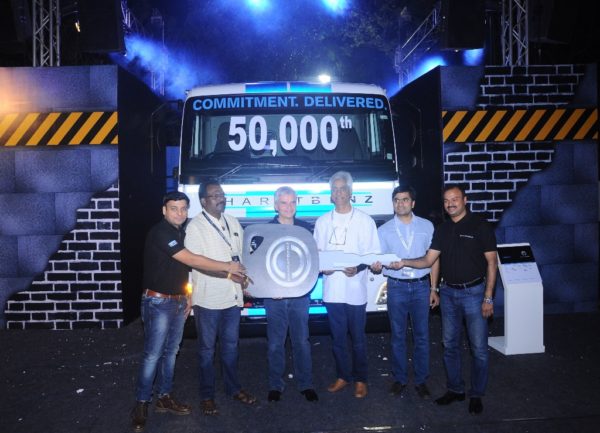 BharatBenz, world's leading CV manufacturer celebrates an important milestone with the customer handover of its 50,000th truck. The vehicle, a 4928 TT tractor from the all-new BharatBenz heavy-duty range, was presented at a regional brand event in Hyderabad.
The BharatBenz brand is customer-tailored for the Indian market Daimler AG, the world's leading CV manufacturer with a global reach.
First unveiled in February 2011, it celebrated its market launch in September 2012. Soon featuring a full-fledged product portfolio in the medium- and heavy-duty segments, the brand crossed the first major milestone of 10,000 units in April 2014 and has further accelerated its growth from there.
With the refresh of the medium-duty range in 2016 and the all-new heavy-duty range in 2017, BharatBenz updated its entire truck portfolio within a short span to give customers even more value for their money.
BharatBenzs portfolio includes-
MEDIUM-DUTY TRUCKS (9-15 tonnes)
MD 914R
MD 1214R
MD IN-POWER 914R
MD 1214RE
MD IN-POWER 1214RE
TIPPERS (12-31 tonnes)
1217C
2523C
1623C
2528C
2528CM
3128CM
3128C
3143CM
RIGIDS (16-37 tonnes)
TRACTORS (40-49 tonnes)
Commenting on the achievement, Mr. Erich Nesselhauf, Managing Director and CEO, Daimler India Commercial Vehicles said: "50,000 truck sales in less than five years – no other new market entrant in India has achieved this before. BharatBenz is today firmly established in the world's toughest CV market and will continue to push the industry limits in terms of safety features, environmental friendliness and fuel economy."
Mr. Rajaram Krishnamurthy, Vice President of Sales & Marketing added: "We have seen a very positive growth momentum following the introduction of the new BS-IV standard, and we aim to further capitalize on this. Customers understand our superior BS-IV solution based on proven SCR technology. They also clearly appreciate the host of additional features that our new BharatBenz heavy-duty range offers, true to our 'Profit Technology' tagline."