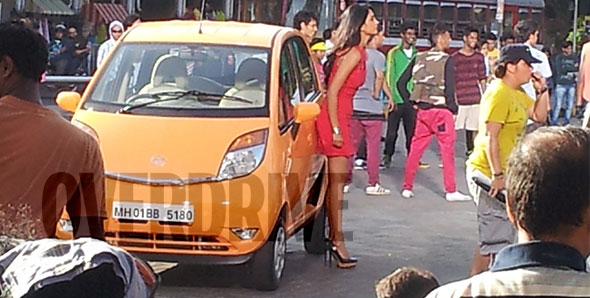 TATA Nano! The name itself brings in mind of the sub 1-lac car, the one which is small and low cost. The story of Nano hasn't been much of a success, not because the car has so less to offer (actually, we consider it loaded) but rather because of the stereotypes that people associate it with!
However, In order to realize its full potential, the world's cheapest car on offering is being refreshed. The dream project of the visionary Ratan Tata is still keeping the spirits high and with the help of the newly appointed CEO Karl Slym, we see a new strategy that might just bring the Nano, back in its tracks.
Thanks to our friends at Overdrive, who have caught the 2013 Nano unmasked during an TVC shoot or some marketing campaign.
So here is what might be hitting the showrooms soon.
On the outside, its still the similar to the current outgoing Nano with some cosmetic changes, the space between the headlamps gets a chrome treatment and at the rear, that gives the car a  little more of a rich feeling, something that's not what you associate with the Nano. Other than that it gets refreshed ventilated bumpers to accommodate for the extra cooling. The wheel covers are new, and the tiny wonder is now available in more colour options. On the inside, the Nano continues to offer central mounted instrument console, but with a glovebox which can also be loacked.
Overall to sum up things are really serious from the tata side, and we feel that they have taken the right step by increasing the number of options kept available. We have always loved the Nano, and we hope it comes out with flying colours in its mission to satisfy real consumer needs.
The Nano will continue to be offered with the same 623cc petrol engine and Tata may also debut a CNG option. Furthermore, we can see a 800cc Common rail diesel engine similar to the one we see on the Tata ACE being introduced in the portfolio in the coming few months.
There are also talks to adding a turbo-charger to the same engine. Adding a diesel and turbocharger definitely gives a boost in the power segment of the car and also appeals to the price-sensitive customer segment that the company targets. This definitely increases its target audience in the market.
This will also give it a better advantage than the Alto 800 and the upcoming Datsun hatch.
Image Source: Overdrive