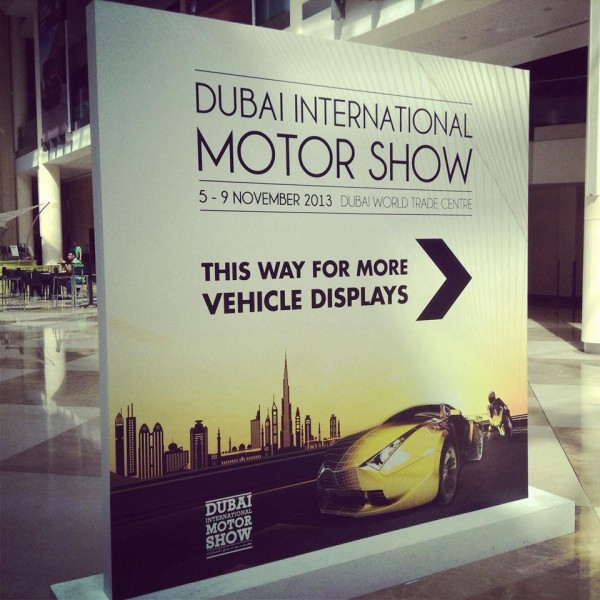 The Dubai International Motor Show was held from 5th to 9th of November this year at the Dubai International Convention at The World Trade Centre. Now as usual, as all international motor shows go, you had a wide variety of cars to look at; car manufacturers going overboard to display their vehicles, only this year, Dubai seems to have pulled an ace up their sleeve. The event was hosted as part of the newly introduced Dubai Motor Festival, which also included The Dubai Grand Parade and the Red Bull Car Park Drift finals. Nice touch! I'll say.
At the venue, as you enter the plaza, there was an arena dedicated to Nissan Patrol's off-road experience, wherein you got to drive a Nissan Patrol over various obstacles with an instructor guiding you. Quite an experience to put the vehicle's abilities into perspective. On the other hand Pirelli gave the Formula one fans a hands on experience to change the tyres of a Formula 1 car and see how your pit-stop skills measured up against others with its Pit-stop Challenge.
Enter into the lobby and you are greeted by the Big Beasts of the motor industry. A Bugatti Veyron Super Sport, a Mercedes CLK GTR, a Porsche GT 1 and a Ferrari Enzo sit mighty on the red carpet, poised perfectly to the flashing cameras. Move into the mail display area in Hall 1-8, and you are just bewildered by the outrageous number of supercars.
Don't get me wrong, this was still a motor show having the "real day-to-day" road cars, but the sheer number and variety of supercars on display, you would be forgiven for thinking otherwise. Right from the German Audi's, BMW's, Merc's and Porsche's to the Italian Ferrari's, Lambo's, Maserati's and Alfa's. Even the British and Americans were represented by Aston Martin, Austin-Healey and Dodge, Ford respectively. Well not to be left out, the Asian car manufacturers like Toyota, Hyundai and Nissan also displayed their current production cars and future concept cars too. Even India had its entry with the Piago Ape´ and the tuk tuk (auto rickshaw). Which begs the question, when will we make cars that we could proudly show off to the world? Jaguar-Land Rover doesn't count.
Name a supercar and it was there. Some of the show stoppers included A Gold Nissan GT-R which belongs to none other than the fastest man in the world, Mr. Usain Bolt; Honda's 1965 Grand Prix winning F1 racer and the drop dead gorgeous Alfa Romeo 4C. For the bike enthusiasts, Yamaha, Harley-Davidson showcased some of their finest pieces of art and raw power. This article will not end if I name every car on display there!
However, this needs a special mention. The Dubai motor show had something you don't normally see at international motor shows; a stall reserved only for Police vehicles; but then again, if your Police department boasts of cars like the Ferrari FF, Lamborghini Aventador, Bugatti Veyron, Nissan Skyline GT-R, Mercedes-Benz  SLS, BMW M6 Gran Coupé, Brabus G63 AMG, Audi R8, Bentley Continental GT Coupe´, who wouldn't? But you wouldn't want to be at the receiving end of these police car chases now would you?
Towards the end of the exhibit was a new concept Hypercar debutant from Devel, The Devel Sixteen. Boasting of unmatched power and performance, the company claims it will have a top speed of 560Km/h with a naught to 60 mph time of just 1.8 sec. To do this it will have a quad-turbo V16 engine churning out a massive 5000 brake horsepower; yes you heard it right 5000. Now how this car will get all that power onto the road is an altogether different question, perhaps another article on that later. With the Bugatti Veyron and only its 1200 horsepower, I doubt the Germans will be very pleased with this!
Is it really possible? Well I'll leave that up to you to decide. This is Dubai however, the land of eccentric grandeur, they might just pull it off, hard to tell, I'll believe it only when it's actually made. But my dear organisers/manufacturers, next time you decide to unveil another bonkers hypercar concept, please ensure that the guy standing at the exhibition introducing it, does not point to the model and say, "Yeah, that's the real car", when asked.
Now what better way to sign off such a great event than to parade all the beautiful cars, which were on display, on the road for the public to witness first hand a rare convergence of nearly all supercars in the world, showing that they aren't just superb to look at stationary, but absolutely marvellous in motion.
The Red Bull Car Park Drift that I mentioned earlier was contest for passionate drifting enthusiasts to showcase high-speed drifting manoeuvres, gear-shifting, steering, braking and power sliding techniques in a stunning display of driving skills amid burning rubber, and smoking tires.
I can't really put a finger on what stole the show (everything just blew your mind), but I guess for a petrolhead like me I'd say it was the parade on the last day. The sound track from those V8's, V10's and V12's resonating on the streets of Dubai would give a well choreographed symphony from an orchestra a run for its money. So if you were in Dubai on a holiday, a business trip or just happened to be there during this week, The Dubai Motor Festival was definitely the place to be.
Article by Flasio Colaco & Ansley Dias