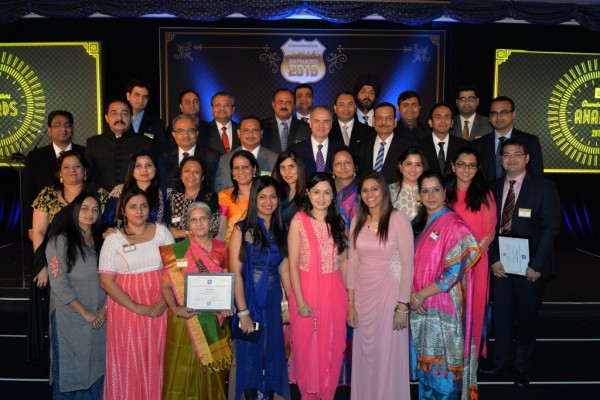 Highest honor for men and women who sell and service GM vehicles
17 dealers from India officially became 2015 GM International Grandmasters in San Francisco, California, this weekend. They were among the 167 dealers in the region that received GM's highest honor for its dealerships.
Now in its 12th year, the GM International Grandmasters program was created to reward GM's best of the best dealers in the region for their excellence. Winners are selected based on vehicle and parts sales, service, customer satisfaction and facility standards. They are judged on both the quantity and the quality of their operations.
"We appreciate the outstanding work that our dealers and their teams are doing every day selling and servicing our Chevrolet vehicles," said GM Executive Vice President and President of GM International Stefan Jacoby. "As the interface between our company and our customers, they are contributing to GM's record global sales," Jacoby added.
"Our dealers are key members of our team in India," said Arvind Saxena, President and Managing Director, GM India. "Like GM, our dealers are putting the customer at the center of everything they do to earn customers for life. They have truly earned the right to be called Grandmasters," Saxena added.
During this year's four-day Grandmasters program, which began on May 8, participants received an update on GM's business, brands and product plans. They also had the opportunity to get behind the wheel of several GM vehicles to experience their excellence. The program concluded on May 11 with a gala dinner for all participants.
As part of its commitment to provide customers with a unique ownership experience, GM India has recently introduced the Chevrolet Complete Care programme with assured low cost of maintenance. In all, GM India has 241 sales outlets and 268 service outlets spread throughout the country.
List of 17 GM India Dealerships Named GM International Grandmasters:
| | |
| --- | --- |
| DEALERSHIP NAME | CITY |
| Aryaman Chevrolet | Karnal |
| Ashwani Chevrolet | Hissar |
| Atharva Chevrolet | Jodhpur |
| Dhansri Chevrolet | Tinsukia |
| Gallops Chevrolet | Ahmedabad |
| Geeyem Chevrolet | Cochin |
| Monarch Chevrolet | Surat |
| Nikhil Chevrolet | Navi Mumbai |
| Padam Chevrolet | Chandigarh |
| Shiva Chevrolet | Noida |
| Shree Gopinathji Chevrolet | Baroda |
| Super Sales Chevrolet | Bhubaneshwar |
| Treo Chevrolet | New Delhi |
| Trident Chevrolet | Bangalore |
| Triumph Chevrolet | Jaipur |
| Unique Chevrolet | Kolhapur |
| Venus Chevrolet | Bhubaneshwar |
| | |
 About Chevrolet 
Founded in 1911 in Detroit, Chevrolet is now one of the world's largest car brands, doing business in more than 115 countries and selling around 4.8 million cars and trucks a year. Chevrolet provides customers with fuel-efficient vehicles that feature engaging performance, design that makes the heartbeat, passive and active safety features and easy-to-use technology, all at a value. The Chevrolet portfolio in India includes the Spark, Beat, Chevrolet SAIL, SAIL Hatchback, Cruze, Tavera, Chevrolet Enjoy and Captiva. More information on Chevrolet models can be found at www.chevrolet.co.in